News from Assembly Minority Leader Brian M. Kolb
For Release: IMMEDIATELY, March 3, 2011
Joshua Fitzpatrick, (518) 455-3751
Assembly Minority Leader Brian Kolb Receives "Man Of The Year Award" From New York State Rifle & Pistol Association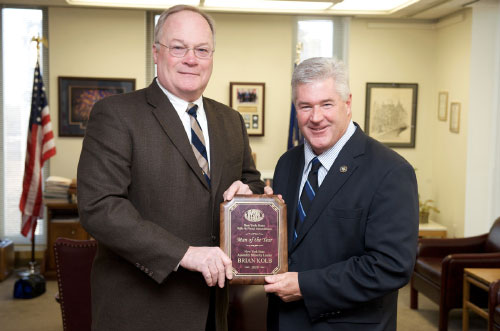 Assembly Minority Leader Brian M. Kolb (R,I,C-Canandaigua) is pictured (right) accepting the New York State Rifle and Pistol Association's (NYSRPA) "Man of the Year Award" from NYSRPA President Tom King (left). Kolb received the award in recognition of the historic gains made in the fall by the Assembly Minority Conference, which, under Leader Kolb, has successfully initiated a non-partisan sportsman legislative outreach agenda that is unsurpassed in New York State Government.
"I'm humbled to once again be recognized for my efforts to preserve and protect the right of all New Yorkers to keep and bear arms," said Kolb, a member of NYSRPA, the National Rifle Association (NRA), the Shooters' Committee on Political Education (S.C.O.P.E.) and Safari Club International. "The Second Amendment is truly America's 'first freedom' - and one worth fighting for. I'm proud to be a member of NYSRPA, and I look forward to continuing my work with Tom King to advocate for New York's sportsmen and women."
"I'm deeply honored to present the NYSRPA 'Man of the Year' award to Assembly Minority Leader Brian Kolb," King said. "This award recognizes the partnership that has been established between the Assembly Minority Conference and New York's gun owners under Mr. Kolb's leadership. The strength of this partnership manifested itself in the outstanding results of this past November's elections."
Kolb is widely recognized for his advocacy of the Second Amendment and his voting record in support of preserving and protecting every New Yorker's right to bear arms. In June of last year, Kolb was named NYSRPA's 2010 "Legislator of the Year." In October 2010, he received S.C.O.P.E.'s "Sandra Lee Wirth Legislator of the Year Award." In December 2010, he was designated "Second Amendment Politician of the Year" by the Yates County Chapter of S.C.O.P.E. The three groups honored Kolb, in part, for his sponsorship of Sportsman and Outdoor Recreation Legislative Awareness Day - the first-ever event of its kind in Albany.