News from Assembly Minority Leader Brian M. Kolb
For Release: IMMEDIATELY, April 12, 2011
Joshua Fitzpatrick (518) 455-3751
Assembly Minority Leader Brian Kolb: "Homeowners Need Relief, Pass The Property Tax Cap Now!"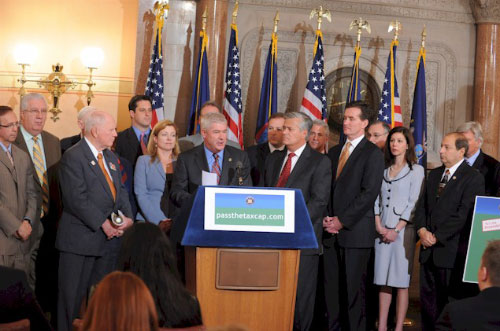 Assembly Minority Leader Brian Kolb (R,I,C-Canandaigua) is pictured (center, speaking at podium) during this afternoon's property tax cap press conference in Albany. Standing to Leader Kolb's right, is Heather Briccetti, Acting President and CEO of the Business Council of New York State, Inc. Pictured to Leader Kolb's left, are Senate Majority Leader Dean Skelos and Senator John Flanagan (R-C-I, East Northport), Chairman of the Senate Education Committee.
STATEMENT FROM ASSEMBLY MINORITY LEADER BRIAN KOLB (R,I,C-CANANDAIGUA):
"The case for capping property taxes is open and shut: New York homeowners pay the nation's highest property taxes, our combined state and local tax burden is America's second highest, and nine of the ten highest property taxed counties in the nation as a percentage of home value are located in upstate. This afternoon, I partnered with Senate Majority Leader Dean Skelos, Members of our respective Conferences, along with pro-business and pro-taxpayer groups to urge the Assembly Majority to join us and enact the tax cap to give homeowners real relief."