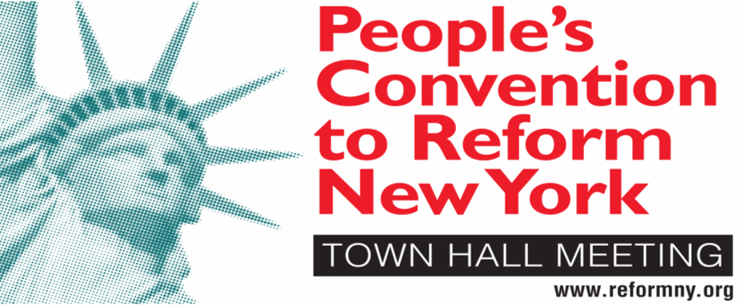 For Release: IMMEDIATELY, June 8, 2011
Contact: Laurie Ammerman, 518-455-5073/518-229-4632
People's Convention to Reform NY
Niagara Falls, NY - Do you want to keep New York State moving in the right direction?
That was the question Assembly Minority Leader Brian M. Kolb (R,I,C-Canandaigua) posed at a Town Hall meeting he convened at the Niagara Falls Public Library this evening. Kolb discussed his support for a "People's Convention to Reform New York" and described how it could deliver positive change for all New Yorkers. Kolb was joined and introduced by his colleagues, Assemblyman John D. Ceretto (R,I-Lewiston) and Assemblyman Kevin Smardz (R,I-Hamburg), who co-hosted the meeting.
"Thanks to taxpayers like you, Albany has finally begun to change course," Kolb said. "Although New York has its first early State Budget in recent memory, we have miles to go before we can truly say that our state government is back on track and headed in the right direction. We still pay the second-highest combined state and local tax burden in the nation. Our homeowners still pay the highest property taxes in America. Nearly 800,000 New Yorkers are still unemployed. State government is still too big, too costly and too bureaucratic. Bottom line - there is still much work that needs to be done!"
Kolb explained that the People's Convention to Reform New York is a grassroots, non-partisan reform effort to empower citizens so they can take back their state government and, in the process, chart a positive, new direction for the Empire State. Some of the issues that could be considered during a People's Convention include fiscal reforms like a property tax cap, a state spending cap, debt reform, as well as a ban on "backdoor" borrowing and unfunded mandates.
Along with fiscal reforms, governmental reforms such as initiative and referendum, establishment of an independent Legislative Redistricting Commission, enactment of term limits for Legislative Leaders, ethics reform and a succession plan for state offices could be taken up during a People's Convention.
Kolb also discussed the non-partisan legislation, "The People's Convention to Reform New York Act," Assembly Bill A.1262. If enacted, the bill would put the question of whether New York should convene a "People's Convention" on the 2011 ballot; by law, this question automatically goes before voters in 2017. The non-partisan measure would move up the opportunity for reform by several years, accelerating the state's ability to enact long overdue and much-needed changes. The legislation specifically requires that any elected official seeking to run as a delegate for, or serve in, the People's Convention must first resign their office.
"For the first time in decades, a State Budget was passed by the Legislature and signed into law by the Governor before the April 1st deadline," Kolb said. "The enacted spending plan was far from perfect; it involved tough, painful choices that began a long overdue process of reforming Albany's tax-and-spend culture. Nevertheless, the important work of fixing state government - and changing how Albany does the people's business - is far from finished. It is time New Yorkers took their state government back - it begins by convening a 'People's Convention,' which is the first step toward ensuring accountability."
"A People's Constitutional Convention would empower Western New Yorkers with the ability to make needed changes to state government while giving them a louder voice in Albany," said Ceretto. "I would like to thank Leader Kolb for taking the time to meet with my constituents and answer questions about how we, as citizens, could utilize this tool to create a more responsive government and a more affordable state."
"Western New Yorkers have expressed their frustration over an ineffective legislative system that has resulted in high taxes and overspending," said Smardz. "Today's Town Hall meeting was an opportunity to educate constituents about the positive reforms that a People's Convention could offer to solve New York's broken system."
Additional People's Convention Town Hall meetings - similar to the event held in Niagara Falls this evening - have been conducted by Kolb and his colleagues in numerous towns and cities throughout the state, including: Amsterdam, Binghamton, Canandaigua, Canisteo, Cornwall, East Fishkill, Elmira, Fayetteville, Hamburg, Hicksville, Hudson, Huntington Station, Lyons, Mt. Kisco, New Paltz, Owego, Patchogue, Penn Yan, Plattsburgh, Queensbury, Rotterdam, Staten Island and Verona. The non-partisan, grassroots effort has garnered endorsements from numerous communities and organizations statewide, as well as nearly 2,500 citizens who have already gone to www.reformny.org and signed the on-line petition in support of a People's Convention.
The Town Hall meeting was held this evening from 4:00 - 5:30 p.m. at the Niagara Falls Public Library on Main Street, which is located in Ceretto's 138th Assembly District that contains part of Niagara County.
Kolb's 129th Assembly District is located in the Finger Lakes region and contains Cayuga, Cortland, Onondaga, Ontario and Seneca counties. For further details on the People's Convention to Reform New York, go to www.reformny.org.