News from Assembly Minority Leader Brian M. Kolb
For Release: IMMEDIATELY, February 1, 2012
Joshua Fitzpatrick, (518) 455-3751
Assembly Minority Leader Brian Kolb Addresses NYS Association Of Counties (NYSAC) Legislative Conference, Says, "Albany Must Make Time For Mandate Relief"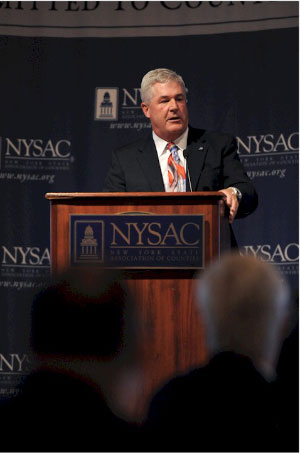 On the preceding page, Assembly Minority Leader Brian M. Kolb (R,I,C-Canandaigua) is pictured (center, standing at podium) addressing the annual meeting of the New York State Association of Counties (NYSAC). NYSAC held its annual Legislative Conference in Albany and invited Leader Kolb to address its membership and update them on his 2012 legislative agenda.
During his remarks to NYSAC, Leader Kolb said Albany needed to "make time for mandate relief" to help countless local governments and school districts across New York that are struggling under the collective weight - and tremendous expense - of state government's endless rules, regulations, requirements and costly mandates, such as the Medicaid program that has become the nation's most expensive. Leader Kolb outlined his efforts to put the brakes on Albany's unfunded mandates and discussed his legislation, the "Taxpayer Protection and Mandate Relief Act," Assembly Bill A.8447, which would aid local governments and school districts by enacting comprehensive program reforms and cost containment measures, including the following:
Freeze County Medicaid costs at their current level;
Allow counties to opt out of optional Medicaid services;
Create a Defined Contribution Retirement plan for new public employees;
Cap state spending based on changes in the Consumer Price Index (CPI);
Prohibit any new unfunded state mandates; and
Establish a process for the governor to submit an annual plan to repeal unfunded mandates.