Opening Of The 232nd Legislative Session

Assembly Chamber
Monday, January 12, 2009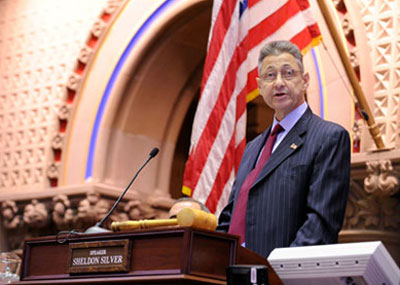 Majority Leader Canestrari. Chairman Farrell. Minority Leader Tedisco. Members of the New York State Assembly. Staff and Guests.
Let me begin this 232nd session of the New York State Assembly by extending to each and every member of this Body, to your families, and to our excellent Assembly staff my warm and heartfelt wishes for a peaceful and healthy new year.
Let me offer a very special welcome to all of you, our new members, who are serving in this Chamber for the first time, and to your families and friends who are here to witness this milestone in your careers.
Allow me a moment as well to welcome my friend, Reverend Marcos Rivera, to the Chamber along with Bishop Juan Cortes of the Primitive Christian Church.
Reverend Rivera, I join with my colleagues in thanking you for opening our session with your inspiring prayer. You and Bishop Cortes are welcome to join us at any time. Please accept our gratitude and our warmest wishes for a peaceful and healthy 2009.
My colleagues, joining us in this historic Chamber this afternoon, is the New York State Assembly Intern Class of 2009.
They are accompanied by Professor Dennis Smith of New York University's Robert F. Wagner Graduate School of Public Service - who along with Professor Helen DesFossess of the University at Albany's Rockefeller College of Public Affairs - are the "one-two punch" that help to make ours one of the finest public internships in the nation.
My colleagues, please join me in giving Professor Smith and all of our interns, a warm Assembly welcome.
Interns, we welcome you to this, The People's House of the New York State Legislature. We take great pride in our public internship program and we are committed to making your Assembly experience both enlightening and rewarding.
We urge you to make the most of this opportunity and to enjoy your time here in the New York State Assembly.
Next Monday, January 19th, the nation will honor the memory of an extraordinary American leader and a legendary champion of social justice and civil rights, the late Doctor Martin Luther King.
The following day, Tuesday, January 20th, the Governor and I - and many of the members of this House - will bear witness to a realization of Doctor King's inspiring dream when we carry the hopes of all New Yorkers to Washington for the inauguration of President-Elect Barack Obama.
As we await the dawn of a new era of hope, a new era of American government that is committed to providing working families and our least fortunate citizens the opportunity for a better and more dignified quality of life, let us join with state legislatures across the land in offering our praise and our prayers to President-elect Obama and to Vice President-elect Biden as they prepare to lead our nation through this time of global conflict and crisis.
It bodes well for our future that our President-elect is already advancing a plan to revitalize our American economy and create the jobs our nation and our state so desperately need right now.
Let us also offer our prayers and our best wishes to our Senator, Senator Hillary Clinton, as she accedes to the post of Secretary of State and begins the monumental challenge of repairing America's international relationships during an era of global terrorism and worldwide financial decline.
Once again, let us offer our congratulations to Senator Malcolm Smith on his historic election as the Majority Leader of the Senate.
On behalf of this House, I have extended my hand to him as an expression of our respect and our desire to work in partnership with the new Senate Majority.
It is my hope that the emergence of the new Senate Majority under the leadership of Majority Leader Smith will usher in a new era of cooperation between the Houses of this Legislature.
Let us also take a moment to acknowledge the achievements of our own alumni.
To our longtime friend and former colleague, Congressman Paul Tonko, we send along our congratulations and our best wishes as he begins his service in the halls of Congress on Capital Hill.
As we celebrate Paul's achievement, let us join in expressing our gratitude to his predecessor, another Assembly alumnus, the Honorable Mike McNulty, as he begins his retirement after 39 years of service to our nation, to our state, and to the good citizens of this Capital Region.
Finally, let us also extend our congratulations and our best wishes to another friend and former colleague, Senator Roy McDonald, as he begins his service to the citizens of the 43rd Senate District.
My colleagues, as you know, we have our work cut out for us in this legislative session.
Poised as we are to commence with the legislative hearings on the Governor's budget presentation, there is no escaping the stark reality that balancing the budget will require tough choices and tough sacrifices.
We will utilize every tool at our disposal. We will make difficult cuts. We will take action to raise revenues. We will seek greater federal assistance.
As we work to pass a fair, balanced and on-time budget, it will be our primary objective to ensure that the burden of addressing the current crisis does not fall disproportionately on to the backs of New York's working families, but there is no way to sugar coat the situation.
Inevitably, there will be fewer resources for government programs that New Yorkers are counting on.
Consequently, some of the goals we have long been working toward, some of the initiatives we are sponsoring as individual legislators, as a legislative body, and as a state will have to be delayed.
What will never change are the core objectives - the principles - that define this, The People's House and our leadership:
That every child must and will receive a sound, basic education beginning with a high-quality pre-K program;

That every New Yorker will have the opportunity to reap the benefits of higher education;

That every man, woman and child in this state will have access to the health care that they need;

That our upstate economy must be retooled, rebuilt and revitalized so that secure and solid jobs as well as affordable housing are available and expanding in every county from Western New York to the Hudson Valley, the North Country to the Southern Tier, from Niagara Falls to the Long Island Sound;

And that this nation and this state must honor the moral obligation to complete the rebuilding of Ground Zero and its surrounding communities.
As we deal with the financial crisis head on and ensure that the sacrifices required are shared sacrifices, let us also keep in mind those New Yorkers who have already sacrificed all that this nation can ask.
From the New Year's Day of 2008 to New Year's Day of 2009, twenty-four soldiers - residents of New York State - gave their lives fighting terrorism.
I commend the Governor for acknowledging their heroism and I urge the members of this House to join me in honoring all New Yorkers who serve in the Armed Forces as well as their families who are missing husbands or wives, mothers or fathers, sons or daughters.
Let us carry out our work with the same sense of duty and honor, and with a deep thoughtfulness and appreciation for the sacrifices they are making to rid the world of terrorism.
Our work in this legislative session will not be limited to closing budget deficits.
We will work with the Governor to implement his far-reaching energy plans for the State of New York.
We will also work with him to address all childhood illnesses: obesity, asthma and diabetes.
We will, once again, pass legislation to reform this State's draconian Rockefeller Drug Laws.
We will pass legislation to strengthen protections for those families living in rent-regulated housing.
As I mentioned a moment ago, we will do all that we can to spur job creation throughout this state.
We will continue to employ our colleges, universities and community colleges as incubators for research and development, business growth, job creation and job training.
We will reform the Empire Zone Program to ensure that it generates the jobs it was intended to generate when we created the program.
We will make the necessary investments in our infrastructure, particularly our mass transit systems, our roads and our bridges.
We applaud the efforts of Richard Ravitch and the Governor's commission in highlighting the needs of mass transit.
In this legislative session, we will address the Metropolitan Transportation Authority's plan in a way that protects straphangers and ensures the viability of a system that is the backbone of the Metropolitan New York regional economy.
This is some of the work that we should and will undertake in this legislative session.
Addressing the monumental challenges before us, completing the work I have outlined, and keeping the promises we made to the People when they elected us to serve them, will require long hours here in Albany, the spirit of bipartisanship called for by the President-elect and by our Governor, and equally important, strong and steady leadership within this Body.
Once again, we will look to the Chairman of our Ways and Means Committee, the Honorable Denny Farrell, to guide us as we work to address this global, financial crisis.
Denny, they say one can only go to the well so many times, but we come to you again, as we came to you during the economic crisis that followed September 11th of 2001, for your leadership, for the assurance of your expertise, and for your wise counsel.
As I weigh the many privileges bestowed upon me by our Majority colleagues, none has meant more to me than the chance to lead this House with you and to have the blessing of your friendship and trust along this journey.
Thank you, Denny.
We are similarly blessed to have the deft but always graceful hand of our Majority Leader, Ron Canestrari, guiding our work on this floor.
Ron, my thanks to you as well, for your loyalty, your support, your sage advice, and most of all, your friendship.
Clearly, you have proven to be not merely an outstanding Majority Leader, but a model of dignity, integrity, patience and class that all who aspire to serve in this historic Body should follow.
I know that our colleagues are eager to follow your lead and will be in their seats on time for every vote, every day.
In all seriousness, we are as fortunate to have you leading our work on this floor as we are to have your friendship and support. Thank you, Ron.
Speaking of good fortune, we are especially fortunate to have my longtime friend and colleague, Assembly Member Aurelia Greene, guiding our work as Speaker Pro-Tem.
Although she is absent today, Aurelia's kindness, her dignity, and her respect for the traditions of this House shine through in everything that she does.
In what promises to be a difficult and highly charged year, we will be counting on our Speaker Pro Tem not only to welcome our many visitors from around the world, but to ensure that the rules of the House are adhered to so that the passion of the debate reflects properly in the eyes of the citizens who are watching our work.
We have every confidence in our Speaker Pro Tem and I am grateful for her exceptional work.
Minority Leader Tedisco, Happy New Year!
In all seriousness, Jim, I believe - as former United States Senator James William Fulbright did - that in a democracy, dissent is an act of faith.
I respect the faith demonstrated year after year by you and by my friends and colleagues on the other side of the aisle.
I recognize, as do my Majority colleagues, that New York is one state, one people and that each and every New Yorker, regardless of where they reside or what they believe, is entitled to the finest service their government can provide.
I look forward to carrying out that mission with you in this legislative session.
Thank you, Jim.
The challenge is before us. Difficult choices are inevitable.
All that remains is how we choose to proceed together.
The American scholar William Arthur Ward once suggested that, "The pessimist complains about the wind; the optimist expects it to change; the realist adjusts the sails."
At this historic moment in our nation's history, let us work together to adjust the sails of our great state and keep New York on a course toward the hope and change that will lead to better days.