Family Planning Advocates
Women's Health Matters: A Day Of Action

Empire State Plaza, Well Of The Legislative Office Building, Albany, NY
Monday, January 12, 2009
{As Prepared for Delivery}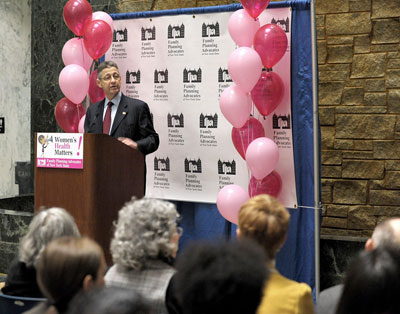 Thank you, Tracey (President and CEO Brooks), for that very generous introduction and thank you, ladies and gentlemen, for your warm welcome.
It is my honor to bring you, the Family Planning Advocates of New York State, the greetings of your many friends and supporters in the New York State Assembly; a group of leaders I am proud to count myself among.
Let me begin my brief remarks by welcoming your Board Chair, Sandra Rivera, and by offering my best wishes and heartfelt congratulations to your new President and Chief Executive Officer, my friend, Tracey Brooks.
Tracey, as some of you may know, worked for me as a Counsel on the Assembly's Program staff, so you know that Tracey is well prepared to guide the FPA into the future.
Of course, I would be remiss if I did not express the gratitude of the Assembly Majority along with our best wishes to my longtime friend and your former President and CEO, JoAnn Smith, who is here with us this morning.
JoAnn, speaking for the Assembly Majority, we thank you for your counsel and your leadership, and we wish you great success in your new endeavor.
While I am dropping names, let me take a moment to congratulate my colleague, Assembly Member Naomi Rivera on her selection to receive the prestigious "Margaret Sanger Award."
Assembly Member Rivera, like many members of the Assembly Majority, is a passionate and vocal advocate for women's health and for ensuring that the young people of this state receive age-appropriate, medically accurate, sexual health education.
The award is well deserved.
Let me also offer my congratulations to this year's FPA "Champion of Choice" Award winner, Senator Andrea Stewart-Cousins, as well as Margaret Sanger Award winner, Senator Eric Schneiderman, two outstanding leaders who are now members of the "new and improved" Senate Majority.
I learned a long time ago, that in life, you have to take the good with the bad.
In eight days, a bright, young, Democratic president will take the helm of our nation and make history.
We have Democratic majorities in both houses of Congress.
We have a remarkable Democratic governor here in New York, a terrific Democratic Majority Leader in Senator Malcolm Smith, and a powerful, battle-tested Democratic Majority in the Assembly.
We have achieved our leadership goals.
The bad news is, that we also have an economy in crisis, a massive state budget deficit, and some very tough choices to make in the weeks ahead.
We in the Assembly Majority are committed to the proposition that whatever sacrifices are required will be "shared sacrifices," and will not fall disproportionately onto the backs of working families.
Ultimately, we will have to make cuts in programs and services that no Democrat would consider were it not for the current crisis.
However the negotiations on the budget unfold, our objectives, our principles will not change.
In all that I and my Assembly Majority colleagues do, we demonstrate that women's health matters.
We believe in a woman's right to control her own personal and private reproductive health decisions.
We will pass The Healthy Teens Act. We will pass The Unintended Pregnancy Prevention Act.
We are working continuously to ensure the economic security of single mothers and working families, and to ensure access to the health that each and every New Yorker needs.
We know that in times of economic crisis, when jobs and health benefits are disappearing, the pressure on public health programs increases dramatically.
Knowing how important your programs are, we want to work with you to ensure that women and families can access the essential reproductive health services they need.
The Legislature will be holding joint hearings on the Governor's Budget Presentation.
We urge you to participate in those hearings.
Tough times are ahead of us. We must work together to overcome the challenges before us.
Thank you for being here to speak for all of the women and all of the families who could not travel to their State Capital to make their voices heard and by all means, make the most of your "day of action" here in Albany.