FOR IMMEDIATE RELEASE:
January 16, 2009

Statement From Speaker Silver Regarding Assembly Hearing On Rent Regulation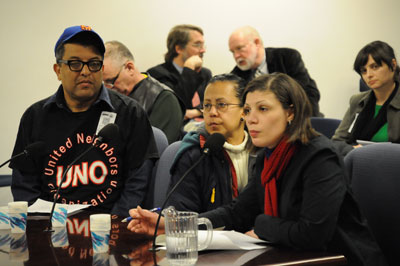 At a time when the national economic meltdown is battering New York, it is a top priority of the Assembly to take action to protect working families who are struggling with the cost of housing.
Today the Assembly held a public hearing to address a crucial component of the affordable housing crisis by strengthening the state's rent regulation guidelines.
To get to the heart of this crucial matter, Assembly Housing Committee Chair Vito Lopez heard from a diverse group of witnesses that included tenants, legal experts and even landlords who own rent regulated property. This hearing was essential in gathering input on how to increase the availability of affordable housing and protect tenants from unfair rent increases and eviction.
The Assembly remains committed to addressing the needs of New York's working families. During challenging economic times it is unacceptable that thousands of New Yorkers are losing access to affordable apartments. Just as the Assembly stood firm last year on protecting families from losing their homes in the subprime mortgage crisis, we will also continue to stand up for affordable housing by passing legislation to repeal vacancy decontrol and amend luxury decontrol standards to reflect inflation and not unfairly push middle-income tenants out of their apartments, saving tens of thousands of affordable apartments from becoming unaffordable. We are also committed to rescinding the Urstadt Law that took away New York City's local control over affordable housing.
For years the Assembly has heard the call of tenants and housing advocates and embraced rent regulation as good public policy for improving the lives of working families. Unfortunately, until now we lacked a partner in the governor and Senate.
This year can and should be different. We are hopeful we have willing partners. Working together, we can achieve our goal of making housing more affordable for tens of thousands of New Yorkers.