FOR IMMEDIATE RELEASE:
January 29, 2009
Assembly Holds Hearing on Status of Lower Manhattan
and World Trade Center Redevelopment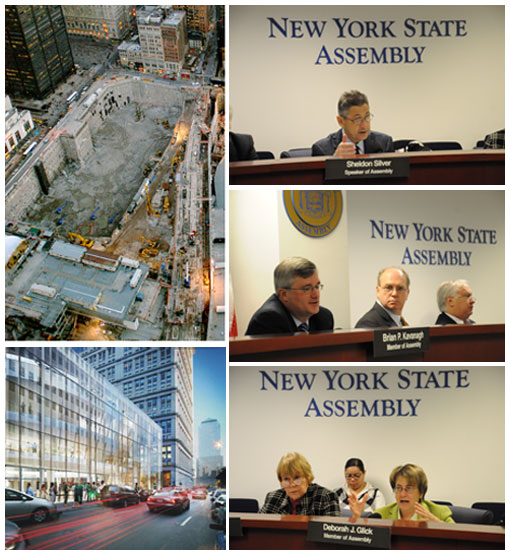 (From top) Speaker Silver takes testimony at an Assembly public hearing to examine the status of redevelopment projects in Lower Manhattan and at the World Trade Center site. Silver was joined by Assembly member (second photo, from left) Brian Kavanagh and Cities Committee Chair Jim Brennan; Corporations, Authorities and Commissions Committee Chair Richard Brodsky, and (third photo, from left) Oversight, Analysis and Investigation Committee Chair Joan Millman and Assembly member Deborah Glick.
The forum, held at 250 Broadway, Manhattan, included testimony from Chris Ward, executive director, Port Authority of New York and New Jersey and Larry Silverstein, president and CEO of Silverstein Properties, Inc.
Funding for the Fulton Street Transit Center in Lower Manhattan also was addressed at the hearing. MTA Executive Director Elliot Sander testified that $497 million from the federal government stimulus package would be used to complete the much delayed and over-budget project.