New York State Public Employee Conference 32nd Annual Breakfast

Empire State Plaza, The Egg, Hart Lounge, Albany, NY
Tuesday, February 3, 2009
[As Prepared For Delivery]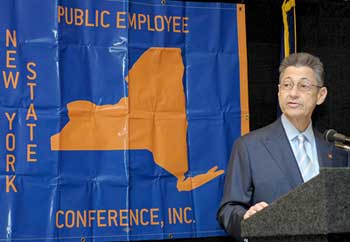 Thank you, Peter [Meringolo], for yet another very generous introduction and my thanks for the leadership and counsel you provide to me and to the Assembly Majority, as the Chairman of this Conference.
It's good to see my longtime friend, Lou Matarazzo. The other day, Lou told a staff member of mine that it feels like he's known me for 500 years. That's kind of funny, because a former governor from Peekskill once said the same thing.
Seriously, you couldn't ask for a better Legislative Director than you have in Lou.
As I do each year at this time, I bring you the greetings of your State Assembly as well as our heartfelt gratitude for the critical work that you and all of your brother and sister public employees do, to keep the City and State of New York safe and sound.
I come to the PEC breakfast every year precisely because I want you to know how much I and my Assembly Majority colleagues respect this Conference.
I believe that New York's public employees, in fact all of this state's working men and women, could not have better, more dedicated advocates in this state government than you have in:
Assembly Member Peter Abbate, the Chair of our Committee on Governmental Employees;

And Assembly Member Susan John, the Chair of our Committee on Labor.
With their leadership and with the support of this Conference, we made "permanent agency shop" truly "permanent" last year.
I hope that you appreciate their dedication and their hard work as much as I do.
The worldwide financial crisis that is ravaging our economy is unprecedented in my lifetime and I assume from looking at this crowd, in yours as well.
The Democratic leadership of this State has a responsibility to deal with this crisis and I assure you that the Assembly Majority will deal with it head on.
There is a deficit in the current budget. We will close that deficit.
There is a significantly larger deficit that must be closed before we can enact the 2009/2010 state budget. Not only will we close that deficit, we will deliver a fair, balanced and on-time budget.
Let's face it, there is no way to sugar coat the financial crisis before us. No budget deficit of $15 billion is going to be closed without federal aid, without cuts and without revenue.
We are working with Labor to obtain the federal aid that we need and we are awaiting the details of the federal stimulus package. We are also working through the various cut and revenue proposals submitted to us by the Governor, and we are developing our own.
Still, it is inevitable that there will be fewer resources for government services and programs that New Yorkers depend upon. It is inevitable that some of the goals we have long been working on as legislators, as partners with this Conference, and as a state may have to be delayed.
As New Yorkers, we need to ask ourselves if the best way to balance the budget is with deep cuts in, for example, the number of police we can put on the street, or if the best way is by asking the wealthiest New Yorkers to contribute a little bit more.
I can promise you this, the Assembly Majority will not allow the burden of addressing the economic crisis to fall disproportionately on the backs of our already overburdened working families. The sacrifices asked for must be and will be "shared" sacrifices.
The Mayor of the City of New York has proposed a budget with enormous, unacceptable cuts.
I assure you that I and my Assembly Majority colleagues are very much aware of his pension proposal and how it will impact the City's Uniformed Services.
I'm not going to patronize you with tough talk or with empty promises. I will simply say that you and I, PEC and the Assembly Majority, have a longstanding relationship, a partnership that gets things done.
We know your concerns and as we always have, we are going to work with you to address your concerns fairly, equitably, and in a way that demonstrates the respect that we have for our public employees.
Tough times may call for tough measures, but be assured that the principles that have defined the leadership of our Assembly for more than a decade will remain intact particularly, our goal of ensuring that our public employees are properly trained, fairly compensated, and diligently safeguarded on and off duty.
As I tell you at every breakfast, in all that we say and in all that we do, the elected leaders of this state must demonstrate respect for our public workforce and for the dangerous and difficult conditions you are asked to endure, because you are the face of this government, its heart and soul, its muscle and its "know-how."
A great economic challenge has been foisted on us. The only way that we will get this state back on track is by working together.
Ours is a partnership that works. Let's keep it that way.
Thank you for listening and by all means, make the most of your day in Albany.