UFT Breakfast For NYS Legislators

The State Room, 142 State Street, Albany, NY
Tuesday, February 3, 2009
[As Prepared For Delivery]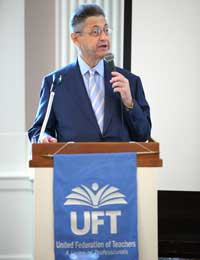 Thank you for that very generous introduction and thank you, members of the United Federation of Teachers, for your warm welcome.
We all know what a powerful and influential leader Randi Weingarten is and has been for some time now, but when Randi decides to come to Albany and a large snowstorm that was forecast to hit this city today moves south and east, you have to admit, she's pretty powerful.
Randi, it is good to see you here at the annual UFT Breakfast. You are an extraordinary leader, certainly one of the finest, most effective labor leaders in the nation today. Your election as President of the American Federation of Teachers testifies to the strength of your leadership. Clearly, you are the best friend New York City's teachers have ever had, but more important, you are the best friend our school children have ever had.
I speak for the Assembly leaders that you see here this morning and for all of my Assembly Majority colleagues, especially the Chair of our Education Committee, Assembly Member Cathy Nolan, when I say how we are proud to be in partnership with you, with the UFT, with Dick Iannuzzi, with Alan Lubin, and with NYSUT in the struggle to provide our children with the very finest education possible.
That's not going to be easy now. The worldwide financial crisis that is ravaging our economy is unprecedented in my lifetime and I assume in yours as well.
The Democratic leadership of this state has a responsibility to deal with this crisis and I assure you that the Assembly Majority will deal with it head on.
There is a deficit in the current budget. We will close that deficit.
There is a significantly larger deficit that must be closed before we can enact the 2009/2010 state budget. Not only will we close that deficit, we will deliver a budget that is fair, balanced and on-time.
Last week, heard your assessment of the current crisis at the joint legislative committee hearing on the Governor's education budget. As much as we appreciate your recommendations, there is, however, no way to sugar coat the financial crisis before us.
No budget deficit of $15 billion is going to be closed without federal aid, without cuts and without revenue.
We are working with our Labor leaders to obtain the federal aid that New York needs and we are awaiting the details of the federal stimulus package that is much talked about.
We are working through various cut and revenue proposals submitted to us by the Governor, and developing our own proposal.
Still, it is inevitable that there will be fewer resources for government services and programs that New Yorkers depend upon. It is inevitable that some of the goals we have long been working on as legislators, as partners with the UFT, and as a state, we will have to delay.
Clearly, as New Yorkers, we need to ask ourselves if the best way to balance the budget is by making deep cuts in our classrooms, or by asking our wealthiest citizens to contribute a little bit more.
I promise you this, the Assembly Majority will not allow the burden of addressing the economic crisis to fall disproportionately on the backs of our already overburdened working families. The sacrifices asked for must be and will be "shared" sacrifices.
The Mayor has proposed a budget with enormous, unacceptable cuts.
Cutting 15,000 teachers, as Randi has correctly stated, would devastate the students who attend New York City's public schools, their teachers and their families.
As I told the media yesterday, I will talk to our senators. I will talk to our congressional delegation. I will make sure that a lot of those education cuts are dissipated, and I will make it clear that whatever funding we receive in that federal package, must go directly to the classroom and bypass the central board and its consultants.
Tough times may call for tough measures, but be assured that our core objectives - the goals and the principles that have defined the leadership of the Assembly Majority for more than a decade - will remain intact, especially our goal of ensuring that each and every child in this state receives at the very least, a sound, basic education.
Even as we deal with this financial crisis, our Education Chair, Cathy Nolan, is holding hearings on school governance. We are committed to working with the UFT, with the parents, and yes, with the Mayor to advance a thoughtful approach to this issue.
As we move forward, let us not forget that our partnership has been a long and productive one. For the sake of the children in our classrooms, we must continue to work together.
A great economic challenge has been foisted on us. Together, we will get through it and we will do so without leaving a generation of our students behind, or asking parents to accept less of a future for their children.
Our work is cut out for us. Let's get it done. Thank you