Campaign For Summer Jobs Annual Youth Action Day

Well Of The L.O.B., Albany, NY
Wednesday, February 4, 2009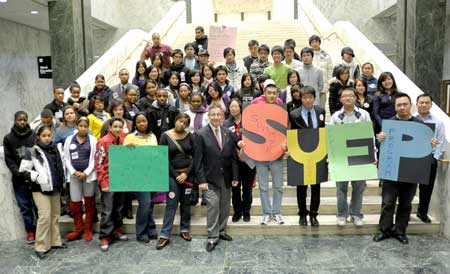 Thank you for that kind introduction.
On behalf of the New York State Assembly, let me say how pleased I am to welcome the Campaign for Summer Jobs here to our state capital.
My thanks to each and every one of you for coming here to Albany and speaking out for all of the young people who could not make this trip; all of the young people who would not have a voice in their government today, were it not for you.
Truly, this is Democracy at its best.
As some of you may know, I was born and raised on the Lower East Side of Manhattan, so I need to know, who is here representing the Chinese American Planning Council?
Who's here from the Grand Street Settlement? How about the Henry Street Settlement?
I grew up on Henry Street. I don't admit this very often, but I was a "drop out" from the Henry Street Music School. My father owned a hardware store on Ludlow Street. That was where I worked every summer. Today, I live on Grand Street.
Everything important that I have ever learned, I learned in those four blocks on the Lower East Side. So, I am thrilled to have people here in Albany with me who can understand all of the challenges of growing up in Downtown Manhattan.
I have come here today - and I attend the Campaign for Summer Jobs rally every year - because I have a high regard for all who want to work and earn their own way.
Summer jobs provide the work experience that is so important for your future. Summer jobs instill self-confidence and a sense of pride. And I know, the dollars you earn help support your families and enable you to purchase the clothing and school supplies that you need.
Equally important, as summer employees, your work is vital to the everyday operation of day camps, libraries, hospitals, senior centers, and recreational facilities throughout the City of New York and across this state.
That is why I - and my Assembly Majority colleagues - have always supported funding for the summer jobs program.
Clearly, you also have a friend in Governor Paterson.
At a time when our economy is struggling, when companies are laying off employees, when the leaders of your government must make serious cuts in the state budget, the Governor did not cut the summer jobs program and we applaud his decision.
I also came here today, because I am a big fan of the United Neighborhood Houses and the Neighborhood Family Services Coalition. These organizations are lead by real community heroes, and I think that they deserve our support and our recognition.
Most of you are probably too young to remember the days when this state had a governor who held back funding for summer jobs. So, I want you to know what good friends you have in the Assembly:
Assembly Member Susan John, the Chair of our Labor Committee;
Assembly Member Keith Wright, the Chair of the Assembly Committee on Social Services;
Assembly Member William Scarborough, the Chair of the Committee on Children and Families;
Assembly Member Darryl Towns, the Chair of the Black, Puerto Rican, Hispanic and Asian Legislative Caucus;
Assembly Member Deborah Glick, the Chair of our Higher Education Committee;
Assembly Member Joan Christensen, the Chair of the Legislative Commission on Skills Development and Career Education.
They are just a few of the leaders who support you and who support summer jobs in the Legislature. While it is good to have friends, it is still important that you take the time to remind your state leaders that summer jobs are important to you and to your communities.
So, by all means, make your voices heard in Albany today.
In return, I promise you that we will continue to speak up for you here in Albany, in the City of New York, and in every city, town and village from Brooklyn to Buffalo.
Enjoy your day in Albany … and thank you again, for being here.