FOR IMMEDIATE RELEASE:
February 25, 2009

Speaker Silver, Key Assembly Criminal Justice Committees Chairs, Visit Highly Successful Albany Drug Rehabilitation Center

Listening Tour Comes As Assembly Introduces Comprehensive Rockefeller Drug Law Reform Legislation For Consideration by Full House
Calling it an important opportunity to see first-hand the type of successful, cost-effective programs that can turn low-level non-violent offenders from prisoners to productive, taxpaying citizens, Assembly Speaker Sheldon Silver and key legislative leaders visited an Albany outpatient drug rehabilitation center Wednesday morning, to discuss the need for comprehensive Rockefeller Drug Law reform.
At a time when New York State faces an economic crisis, Silver said now is a critical moment to reexamine the failed Rockefeller Drug Laws. Joining Silver for a tour of the facility and an opportunity to get input from the men and women on the frontlines of the "War on Drugs" at the Eleanor Young Center in Albany were Assembly Corrections Committee Chair Jeffrion Aubry, Assembly Judiciary Committee Chair Helene Weinstein, Assembly Codes Committee Chair Joseph Lentol, Assembly Majority Leader Ron Canestrari and Assemblyman Jack McEneny.
Earlier this week, the Assembly introduced legislation sponsored by Aubry (A.6085) that reforms these failed laws by putting discretion back in the hands of judges and addresses a range of public health issues that spring from illicit drug use.
"More than 35 years after the Rockefeller Drug Laws were enacted, it is clear that these laws mandating imprisonment for even lower-level offenders have failed to combat drug abuse or reduce the incidence of violent crime," said Silver (D-Manhattan). "What the Rockefeller Drug Laws have done is succeeded in imprisoning tens of thousands of lower-level, non-violent offenders, who are predominantly African-American and Latino, with no history of violent crimes."
"The Assembly recognizes that the existing law continues to be badly flawed and that further changes are needed. My bill fulfills our commitment by providing for a more sensible, comprehensive and cost-effective approach for dealing with lower-level drug offenders and addicts," said Aubry (D-Queens).
"It costs approximately $45,000 a year to incarcerate an inmate in state prison. Think of all the resources that have been spent solely on locking-up non-violent drug offenders that could have been invested in the education, rehabilitation and job training that could save lives. Treatment programs in New York City have a 10 percent recidivism rate for participants one year after completion, compared to 60-70 percent for those not in programs," continued Aubry.
"With the establishment of drug courts and by providing judicial discretion to judges, we are addressing one of the underlying problems that cause individuals to break the law; drug addiction. This bill would give eligible drug offenders the opportunity to seek the treatment they need and would reduce the rate of recidivism in New York," said Weinstein (D-Brooklyn).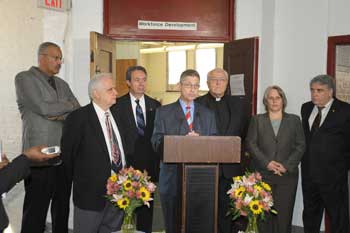 Silver (center) holds news conference at the Eleanor Young Center, an Albany alcohol and drug treatment outpatient program founded by Father Peter Young (center right), to call for reform of the Rockefeller Drug Law. The Speaker was joined by Assembly Correction Committee Chair Jeffrion Aubry; Codes Committee Chair Joseph Lentol; Majority Leader Ron Canestrari; Judiciary Committee Chair Helene Weinstein; and Assemblyman Jack McEneny.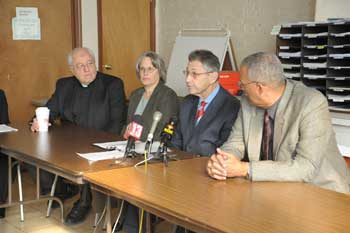 Speaker Silver, flanked by Rockefeller Drug Law reform bill sponsors Jeffrion Aubry, and Judiciary Committee Chair Helene Weinstein talk with Father Peter Young about his highly successful drug treatment program. Young's facilities across the state serve 4,000 people daily, helping former addicts and substance abusers become productive taxpayers through treatment, affordable housing and employment programs.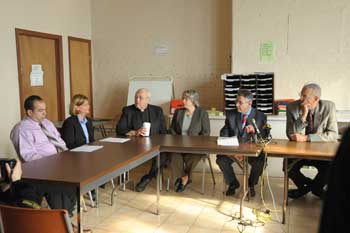 Prior to the news conference, Silver, Father Young and the Assembly committee chairs spoke with program directors about their experience with successfully turning substance abusers into successful taxpayers.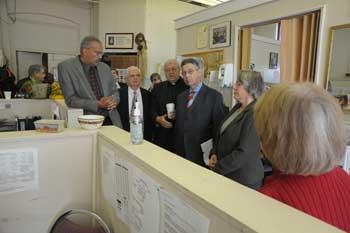 Silver and the Assembly delegation toured the facility with Father Young, CEO of Peter Young Housing, Industries and Treatment, and Sister Phyliss Herbert, who heads up Honor Court where clients receive drug counseling and vocational training services.

Click here to view Speaker Silver's remarks
"Currently there are over 13,400 people serving time in state prisons for drug offenses. Thirty-nine percent are incarcerated for drug possession, not selling, and 80 percent have never been convicted of a violent offense. By eliminating mandatory sentences, we can instead get some of these people the rehabilitation and help they need to live productive lives," said Lentol (D-Brooklyn).
The Aubry bill would change sentencing laws affecting non-violent drug offenders to include rehabilitation and supervision as potential alternatives to incarceration. The Assembly's Rockefeller Drug Law reform bill expands the use of effective drug treatment programs. Under the bill, the use of drug courts would be increased with the authorization that one be created in each county. Judges would have discretion to divert defendants for treatment and place those most likely to succeed on probation as a potential alternative to a state prison term.
Following meeting with the Center's founder, Father Peter Young, program directors and clients, Silver and the Assembly delegation held a press conference to discuss the legislation and highlight a successful program.
"This bill provides reforms that are long overdue. It would expand the availability of drug treatment programs, allow judges to order non-violent, lower-level offenders into mandatory treatment for addiction and substance abuse and assure that prisons are most often used for serious drug offenders, offenders with violent histories and those who cannot or will not succeed in drug abuse treatment. We are confident that the Assembly's long-standing commitment to make the state's drug laws smarter, fairer and more effective will be become a reality," said Silver.
The Eleanor Young Center operates an alcohol and drug outpatient program. Father Young and his foundation run 80 programs across the state, serving 4,000 people daily. Father Young served as a chaplain in state prisons for over 30 years before creating his non-profit foundation for housing, vocational training and alcohol and drug abuse treatment.
"These laws have neither reduced crime, nor drug abuse. Statistics show that rates of illicit drug use are 8.1 percent for whites, 7.2 percent for Latinos and 8.7 percent for African-Americans. Yet 90 percent of those in state prison for drug offenses are African-American or Latino," said McEneny (D-Albany).
"In 2004 small reforms were made and the Assembly was able to lower maximum prison sentences and eliminate life sentences under these laws. We currently spend more than $500 million annually to imprison all individuals convicted of drug offenses in the state. It is estimated that the state has saved $99.2 million from the limited reforms already passed," said Canestrari (D-Cohoes).
###
Please click here to view the Speaker's policy paper on reforming Rockefeller Drug Laws