Press Conference: Assembly Majority To Take Up Drug Law Reform
Capitol, Speaker's Conference Room, Albany, NY
Wednesday, March 4, 2009
[As Prepared For Delivery]
Speaking for my colleagues in the Assembly Majority;
For all of the advocates here with us today, those leaders who have fought side-by-side with us to change the drug laws in this state: Randy Credico, the Legal Action Center (Anita Marton), and the Alcoholism and Substance Abuse Providers of New York State;
For all of the substance abuse treatment providers who are on the front lines right now, fighting to prevent the destruction brought about by drug use and addiction;
I am proud to say that we will take up our drug reform legislation on the floor of the House later this afternoon, and we will pass our legislation in keeping with our commitment to reform our Rockefeller Drug Laws this year.
Joining me at the podium to discuss our bill are numerous members of the Assembly Majority, including my co-sponsors:
Assembly Member Jeff Aubry, the Chair of our Committee on Correction and a longtime champion of drug law reform;

Assembly Member Joe Lentol, the Chair of our Committee on Codes, who has done years of work in bringing us to a reasonable reform proposal;

And Assembly Member Helene Weinstein, the Chair of our Committee on Judiciary, who has spent many years holding hearings on this issue and has contributed greatly to this reform proposal.
Also speaking on our legislation will be Father Peter Young, a recognized and widely admired leader in the field of substance abuse treatment, and a man who has dedicated more than 50 years of his life to treating drug users and the addicted.
For nearly a decade, I and my Assembly Majority colleagues have fought for Rockefeller Drug Law reform and passed legislation to accomplish it.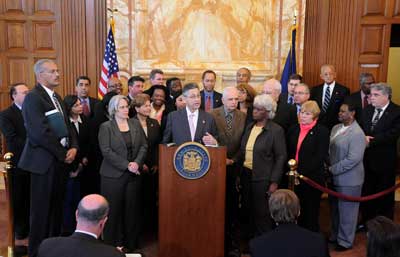 Speaker Silver (center) held a Capitol news conference to announce the passage of the Assembly's Rockefeller Drug Law reform legislation. The bill returns judicial sentencing discretion, providing rehabilitation programs for non-violent drug offenders as an alternative to incarceration.
Silver was flanked by Assembly members (from left, front row) Helene Weinstein; Ellen Jaffee; Michele Titus; Joseph Lentol; Aurelia Greene; Joan Millman; and Annette Robinson. (Second row) Assembly members Jeffrion Aubry; Donna Lupardo; Deborah Glick (not shown); Vivian Cook; and Linda Rosenthal and Father Peter Young and Assemblymen Steven Cymbrowitz; and Jack McEneny. (Back row) Assembly members Frank Skartados; Adriano Espiallat; Darryl Towns; Matthew Titone; Michael DenDekker; Nick Perry; Michael Benjamin; Gary Pretlow; Micah Kellner; Herman D. Farrell Jr., and Keith Wright.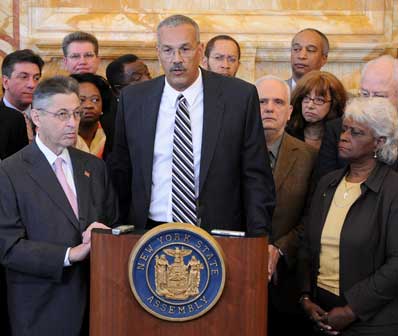 (Center) Assembly Corrections Committee Chair Jeffrion Aubry, the bill's sponsor and a long-time advocate for the reform of the Rockefeller Drug Laws, told reporters the Assembly's bill would end mandatory sentencing maximums because they were and are ineffective in the war on drugs. Aubry said drug rehabilitation works and there are studies to prove it.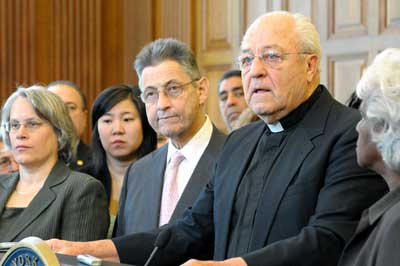 Father Peter Young, who operates drug rehabilitation centers throughout the state, attested to the effectiveness of treating drug addiction as a disease and its ability to transform people into drug-free, productive, taxpaying citizens. At Father Young's side (from left) are Assembly members Helene Weinstein and Grace Meng and Speaker Silver.
In 2004 and 2005, we managed to achieve limited reforms, but not nearly what we wanted or what was needed.
In May of 2008, we held two historic and well attended public hearings to bring into focus both the criminal justice and the public health aspects of illicit drug use in this state.
The drug reform legislation we are advancing today reflects our years of study, consultation and debate, and our unrelenting commitment to reform a nearly 36-year-old, outdated, drug policy that has been and continues to be an economic failure, a criminal justice failure, a public health failure, a family and community disaster.
When the voters spoke on November 4th of 2008, they demanded change.
We recognized that this year - 2009 - would be the best chance we have ever had to reform the Rockefeller Drug Laws and to establish a more effective, less costly, more humane drug policy here in the State of New York.
This new drug policy will be founded on the premise that drug addiction is a public health crisis and that drug treatment works.
Study after study proves that a comprehensive program of treatment, counseling, housing and employment is the most effective way to treat addiction and reduce recidivism.
Of those drug users and addicts who go through our criminal justice system without receiving treatment, some 50 percent of them are likely to be returned to the criminal justice system.
For those drug offenders who are provided with effective treatment and counseling, the recidivism rate is about 10 percent, one year after their treatment.
If you joined us at Albany's Eleanor Young Clinic on February 25th, you saw a successful model for drug treatment.
In fact, there are 90 Peter Young residential facilities throughout this state. So, not only is drug treatment effective, there is a real desire, a real and substantial need throughout New York, for treatment programs that can break the shackles of addiction.
If you joined us last week, you also heard the truth about drug treatment from Father Young, from his directors and from some of his clients.
You heard the stories of the judges who have said, "I wish I could send this particular defendant to a drug treatment program. That is what they need."
So, the key to our reform plan is the restoration of judicial discretion.
Achieving meaningful reform of the Rockefeller Drug Laws requires that we give our trial judges the flexibility to impose sentences that fit the circumstances of the offense.
It should not have taken this state nearly 36 years to realize that mandatory minimum sentences are a one-size-fits-all approach that does not work and does not address the substance abuse challenges facing communities across this state.
A full listing of the components of our drug reform legislation are contained in the release that has been given to each of you, but let me, once again, clarify our position on illegal drugs.
While we believe that drug treatment is a smarter way of dealing with non-violent drug offenders, under the Assembly Majority's plan:
If you peddle drugs on school grounds or in a day care center, you will go to prison.

If you sell drugs while in possession of a loaded gun, you will go to prison.

If you are an adult who is caught selling drugs to a child, you will go to prison.

If you are the mastermind of a major drug distribution operation - a so-called kingpin - we will permanently reserve prison spaces for you.
Before I turn the microphone over to my colleague, Jeff Aubry, let me close by saying this:
Over the nearly 36 years since their enactment, the Rockefeller Drug Laws have cost New York State's taxpayers hundreds of millions - if not billions of dollars - to incarcerate thousands of low-level, non-violent drug offenders.
These men and women could have and should have received far less costly drug treatment and support, and come back to their families as productive, employed, taxpaying citizens of the state.
The cost of incarcerating a lower level, non-violent drug offender is $45,000 a year. The cost of residential drug treatment in a facility such as Father Young's, with all of its services, is in the neighborhood of $15,000 annually.
The Rockefeller Drug Laws have demonized drug users, including lower level, non-violent offenders of every creed and color, every income class and political affiliation; a population that should be helped first, not incarcerated first.
New York should do better than this. We can do better.
We cannot afford to wait another year. We should reform our drug laws now.

Click here to view Speaker Silver's Press Release