FOR IMMEDIATE RELEASE:
March 10, 2009

Legislature Elects Dr. Christine Cea, Wade Norwood
And Re-Elects Dr. Joseph Bowman, Dr. Saul Cohen
To Board Of Regents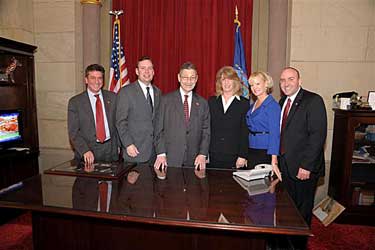 Assembly Speaker Sheldon Silver, Education Committee Chair Catherine Nolan and Higher Education Committee Chair Deborah Glick today announced the election of Dr. Christine Cea and Wade Norwood as the newest members of the 17-member panel of the New York State Regents. The Assembly and Senate, in a joint session of the Legislature, also announced the return of Dr. Joseph Bowman and Dr. Saul Cohen to the Board.
"By electing these accomplished and distinguished individuals to the Board of Regents, the Assembly Majority demonstrates its continued commitment to ensuring that our children receive the proper education and skills to become the outstanding achievers of the future," said Silver (D-Manhattan). "This year we are also adding a seventeenth member to the board, guaranteeing even more oversight for academic performance and excellence throughout the state."
The new seat on the Board of Regents was added to coincide with the creation of a thirteenth judicial district for Staten Island. The Board is comprised of 17 members elected for five year terms. One member is elected from each of the state's judicial districts and four members serve at large. These are unsalaried positions.
"The addition of Christine Cea and Wade Norwood, along with the return of Joseph Bowman and Saul Cohen, continues to bring talent and expertise to the Board of Regents. These men and women will help guide our effort to ensure quality education for every child in the state," said Nolan (D-Queens).
"These members bring a broad range of experience and backgrounds to the Regents Board and continue our goal to ensure an informed, educated and talented populace in New York," said Glick (D-Manhattan).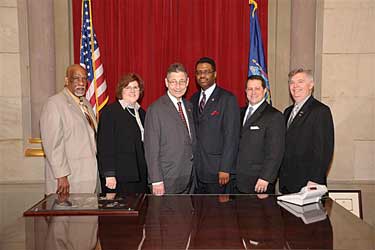 Dr. Cea currently holds the position of Developmental Disabilities Project Director at Fordham University's Center for Ethics Education and is a research scientist at the New York State Institute for Basic Research in Developmental Disabilities. She is also a consulting editor for the American Association on Mental Retardation. Previously, Dr. Cea taught psychology and sociology at the College of Staten Island. In her community, she serves as a member of the Borough President's Advisory Committee for the Disabled, and as a board member of the Community Advisory Board on Developmental Disabilities and University Hospice at Staten Island University Hospital. Dr. Cea holds a B.A. in psychology, from CUNY, a M.A. in psychology and a Ph.D. in applied developmental psychology from Fordham University.
Norwood currently is the Director of Community Engagement for the Finger Lakes Health System Agency, a non-for-profit community health planning organization, and is a member of the Buffalo Fiscal Stability Authority. Previously, Norwood served on the Rochester City Council for 15 years, where he focused on community revitalization and environmental health initiatives. He also served as a special assistant to Assemblyman David Gantt (D- Rochester) for 19 years. In his community, Norwood has served as a board member for the Children's Institute, Children's Agenda, Hillside Work-Scholarship Connection and Perinatal Network of Monroe County, as a faculty member for the African-American Leadership Development Program and as an advisory board member for the University of Rochester Rush Rhees Library and the Nazareth College School of Health and Human Services. He holds a B.A. in political science from the University of Rochester.
The Board of Regents was established in 1784 and is the oldest, continuous state education entity in the United States. Regents are responsible for the general supervision of all educational activities within the state, presiding over the State University of New York and the New York State Education Department.
Cea will represent the new Thirteenth Judicial District of Staten Island, and Norwood will be a Member-at-Large. Bowman will continue to represent the Third Judicial District, which includes Albany, Columbia, Greene, Rensselaer, Schoharie, Sullivan and Ulster Counties. Cohen will continue to be a Member-at-Large.