Press Conference On 2009/2010 Budget Agreement

Capitol
Monday, March 30, 2009
Faced with the largest deficit in New York State's history and the greatest economic crisis in a generation, this budget was about making tough choices.
In January, I and my colleagues in the Assembly Majority told New Yorkers that the fiscal collapse facing this State was both a spending crisis and a revenue crisis.
We told you that because the global economy was rapidly deteriorating and it would therefore make it impossible for us to simply cut our way out of the crisis and continue to provide for the health, education and safety of our citizens.
We told you that closing a budget gap of this magnitude would require three things: federal aid, serious spending cuts and revenue raisers. All are encompassed in this agreement.
This budget contains record spending cuts - more than $6 billion in cuts - and includes historic reforms to Medicaid that will save $1.6 billion this year and billions more in the years to come.
In addition to $6 billion in cuts, this budget asks the wealthiest to pay a little more so that working families in New York State will suffer a little less.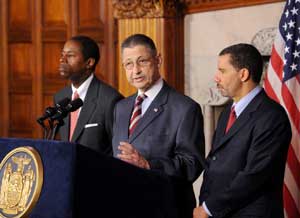 Silver (center) joins Gov. David Paterson (right) and Senate Majority Malcolm Smith at the Capitol to announce an agreement on the budget for the 2009-2010 State Fiscal Year. The Speaker noted that the budget agreement calls for record spending cuts of $6 billion and uses the federal stimulus money of $5 billion to maintain critical government services to help New Yorkers get through the economic recession.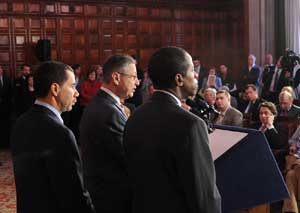 The speaker credited Gov. Paterson for his early recognition of what Silver called, "The largest deficit in New York State's history and the greatest economic crisis in a generation." He also praised Paterson for his willingness to address the financial crisis both in the short and long term.
By leveraging $5 billion in federal stimulus money and by imposing temporary income tax increase on high earners, we were able to prevent deep cuts that would hurt our school children, our senior and disabled citizens, our City and State Universities, our child welfare system, our parks and our environment, affordable housing and legal services for the poor.
This budget also advances two long held Assembly priorities.
First, we are reforming the Rockefeller Drug Laws to emphasize treatment and prevention over incarceration and recidivism. Ultimately, this will save dollars for this state, since treatment costs considerably less than incarceration and has proven to be much more effective at cutting the rate of recidivism.
Second, we will enact the "Bigger, Better Bottle Bill," which we have passed in previous years. We are expanding the State's nickel deposit law to include bottled water; a step that will clean up New York's environment and will put $115 million more into the budget to pay for part of our Environmental Protection Fund.
Reaching this agreement required continuous analysis, long hours of review by our Assembly Democratic Conference, and ultimately, good faith negotiations and considerable compromise.
The final product is a budget this fair, balanced and hopefully, come tomorrow afternoon, will be on time.
I commend the Governor for his leadership throughout this historic economic meltdown. He warned New Yorkers about this crisis early on and he kept the focus on addressing it both in the short term and in the long run. He deserves commendation from all New Yorkers for keeping us focused on the exact problems we are facing, and for, perhaps, being earlier than most economists in predicting exactly what would happen to our economy.
Let me commend my colleague, Senator Malcolm Smith. With his leadership and the leadership of his Majority Conference, we were finally able to advance long-held Democratic principles in this state.
Let me also commend our Assembly Committee Chairs and our Democratic Conference, for the long hours, the late nights, and the weekends they put into bringing about this historic budget.
Finally, I extend my gratitude to President Obama and to our Congressional Delegation - most notably Senator Schumer and Senator Gillibrand - for their leadership and their contributions to helping us address this extraordinary fiscal crisis.