West Point Day

State Capitol, Assembly Chamber, Albany, NY
Wednesday, April 1, 2009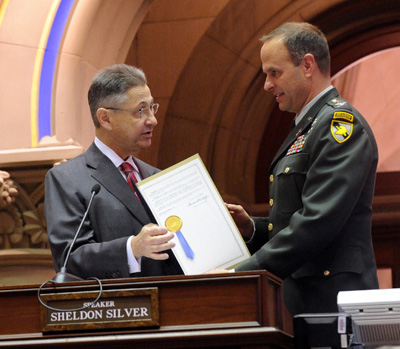 My Colleagues, as you know, today is "West Point Day" here in the New York State Assembly.
We are privileged to have a number of guests from the United States Military Academy here with us in the Chamber this morning. Joining us are:
Senior West Point Chaplain, Colonel John Cook III, who is representing Superintendent Franklin L. Hagenbeck and will address us, shortly;

Colonel Bryan Hilferty, the Director of Communications at West Point;

Garrison Chaplain, Lieutenant Colonel Matthew Pawlikowski;

Command Sergeant Major and Mrs. Martin Wells;

Sergeant Major [Retired] David Brzywczy;

West Point's Chief of Community Relations, Ms. Deborah DeGraw;

Cadet First Captain Ben Amsler;

And a number of Cadet New Yorkers from across our great state.
Please join me in giving our West Point guests a generous New York State Assembly welcome.
On behalf of Majority Leader Ron Canestrari, Minority Leader Jim Tedisco, Assembly Member Adriano Espaillat, the Chairman of our Committee on Veterans Affairs, Assembly Member Nancy Calhoun, whose 96th Assembly District is home to West Point, and on behalf of this the entire Body, let me convey to you, Chaplain Cook and to your contingent, how proud we are that the United States Military Academy - a place of legendary figures and legendary deeds - stands proudly in New York's beautiful Hudson Valley.
In times of conflict, it is easy to forget that West Point is much more than a training ground for America's military leaders.
From its picturesque campus high above the Hudson, West Point has produced leaders imbued with a profound commitment to duty, honor and service; men and women who have inspired and achieved in every field of endeavor.
Two have been elected to the presidency of our United States. Two have touched the face of the moon.
Graduates of West Point's premier school of engineering erected the infrastructure that made possible America's westward expansion and supervised the construction of such revered American landmarks as the Washington Monument and the Library of Congress.
As magnificent as its history is, we are especially and eternally grateful for all of the valiant leaders who were educated and trained at "The Point;" those elite few whose bravery and patriotism, skill and sacrifice have preserved our Democracy for more than two centuries, and guided our nation through many times of conflict.
To the Cadets who are joining us today, I will repeat something that I have told your West Point brothers and sisters who have come to this Chamber over the years.
We may not fully comprehend the challenge of being a soldier in this age of global terrorism, but we see quite clearly that the liberty that we Americans so easily take for granted is not without its costs.
Cadets, today we will praise your patriotic spirit and we will applaud your dedication, but in our hearts, we are praying that you - and each and every West Point Cadet - will know more peace than peril as you honor your commitment to our nation.
To mark your presence here today, we will take up a legislative resolution honoring the United States Military Academy at West Point. Please accept our best wishes as well as the privileges of the House. Thank you for honoring us with your presence.
May G-d bless each and every one of you, and all of our fighting men and women wherever they are serving … and may G-d bless America.