TWU-Local 100 Legislative Lobby Day
Empire State Plaza, The Hart Lounge, Albany, NY
Tuesday, April 7, 2009
{As Prepared for Delivery}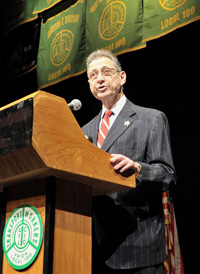 Thank you, Roger [Toussaint], and let me say, my friends, what an honor it is to receive such a generous introduction from one of New York's finest and most effective labor leaders.
Members of the Transport Workers Union - Local 100.
On behalf Assembly Member Peter Abbate, the Chair of our Committee on Governmental Employees, Assembly Member Susan John, the Chair of our Committee on Labor, and all of the members of our Metropolitan New York Assembly Delegation, it is my pleasure to welcome you back to Albany.
Because I have such profound respect for this union and for the tremendous job that you do every day in keeping the world's greatest city moving and growing, I felt compelled to stop by the Hart Lounge and personally pay my respects to each and every one of you.
As you know better than most, the crisis facing the MTA is not just a concern for our straphangers.
Every New Yorker - our transit workers, our motorists and every company that does business in the City and in the region - has a stake in the future of the MTA.
No one wants to pay more. I appreciate that, but two facts are indisputable.
New York is the epicenter of a massive, worldwide, financial crisis. That's number one.
Number two, our ability to weather this storm and to build long-term economic stability and growth requires that we have a safe, efficient and dependable mass transit system. We won't have one without the other.
How do I know that? I remember the fiscal crisis of the 1970's, when we stopped investing in the MTA. It was a colossal mistake that devastated our city, the suburbs and the entire region.
As bad as the current recession is, we cannot afford to ever make that mistake again.
Let's face it, the only fair way to address the current crisis and at the same time provide a dedicated stream of revenue to fund the capital improvements to maintain and improve what is a world-class transit system, is to ask every stakeholder to share the ride.
That is what the Ravitch Commission plan recommends. That is what my plan recommends.
While there is no plan at present that everyone agrees with, we are unanimous in our recognition that the MTA's "doomsday budget" - with its huge fare increases and the massive service cuts - is unacceptable.
Right now, everything is on the table.
I assure you that my Assembly Majority colleagues and I are committed to finding a solution that is fair and that ensures the long-term viability of our all-important mass transit system.
Working with the Governor and with the Senate, with the City and with the TWU, I am confident we will come up with a solution that will rescue our mass transit system, save the fare, and keep the subways and buses running; that will save transit worker jobs and require greater transparency and accountability from the MTA.
So, today, make the most of this, your annual lobby day. Talk to your legislators and help us forge an MTA rescue plan that works.
Before I go, let me say one more thing.
I meet hundreds of leaders every year and none are more courageous, none are more committed, none work harder to get justice for working people than your president, Roger Toussaint.
Thank you for the great work that you do each and every day.
Thank you for being here and make sure that the TWU message is heard loud and clear in the halls of this government.