Announcing Free Cooking Oil Recovery Program For Local Restaurants

Russ & Daughters Restaurant, 179 East Houston Street, Manhattan
Friday, April 24, 2009
{As Prepared for Delivery}
Speaker Sheldon Silver held a news conference during "Earth Week" to promote Go Green, a program in Manhattan that collects restaurant waste oil and recycles it into biodiesel fuel. In front of Russ and Daughters, which has been in business on the Lower East Side since 1915, Silver spoke about the environmental benefits of low- emission vehicles that run on biodiesel.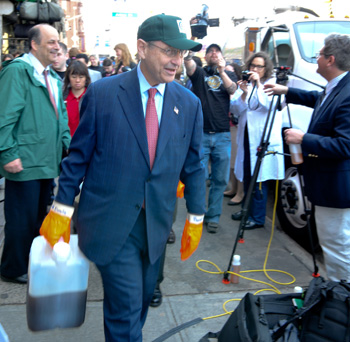 Silver lends a hand to Russ and Daughters on their first collection day, helping to carry their waste oil to a truck headed for a processing plant where it will be transformed into biodiesel. The Speaker urged other restaurants to join the Go Green program, which will improve air quality and is available at no charge to its participants.
Thank you, ladies and gentlemen. It is really great to be here as part of the continuing celebration of "Earth Week."
We are gathered here at the world-renowned Russ and Daughters Appetizing. Wherever I travel, people tell me they come to Russ and Daughters Appetizing. It is great to use this landmark - and it is a real landmark - to urge local food purveyors and local restaurants to participate in the "Go Green Cooking Oil Recycling Program."
I am delighted, obviously, to be joined by my former colleague - whom we kicked upstairs to the borough presidency from Assembly - Scott Stringer. He has been doing great work for the entire borough and he certainly understands that all good things emanate from here in the Lower East Side.
Also joining us in this announcement are the Founder and President of the Doe Fund, George T. McDonald, who does such great work in - among other things - keeping communities clean throughout this City. He is actually out in the communities and is clearly dedicated to his work.
We are joined by the Program Director of the Lower East Side Ecology Center, Tara Deporte.
Of course, the Co-Proprietor of Russ and Daughters, Nikki Russ Federman, is here and is the fourth generation of the Russ Family operating this historic appetizing store, which has stood for the last 95 years, since 1914. (You beat my family. We were on Ludlow Street beginning in 1929.)
We are also delighted to have Roberto Ragone of the Lower East Side Business Improvement District here with us, supporting this project as well.
"Go Green," as you know, is an initiative begun under the environmental leadership of our Borough President, Scott Stringer.
The Cooking Oil Recycling Program is a new partnership between business, the community and government that will:
Reduce the amount of harmful exhaust being spewed into the air;

Clear our waters of waste cooking oil;

Establish a continuous source of clean-burning energy;

Encourage our students to get involved in building the "green" economy;

And create jobs.
Essentially, we are striving to transform all of the waste cooking oil that we can into clean-burning bio-diesel fuel.
When the Borough President informed me that he wanted to extend this program to the Lower East Side, I immediately went to Russ and Daughters, because people recognize them as a Lower East Side institution … and because I knew that when this historic and high-quality establishment gets in and gets involved, others will follow.
Let me also point out that, thanks to the leadership of my colleagues in the Assembly, there are bio-diesel energy tax credits in place to encourage the use of clean home heating fuel and to encourage the production of biofuel.
In closing, let me commend our Borough President for his continuing "green" leadership, as well as the Lower East Side Ecology Center, the Doe Fund, and especially Russ and Daughters for being the first proprietor to participate in this program.
Once again, let me urge all of our food purveyors, all of our restaurants, and any business that prepares food on premises to join us. There is no cost and more important, there is a tax benefit for getting involved in the cooking oil recycling program.
Let me point out one last benefit. Transforming waste cooking oil into bio-diesel fuel does not place a stress on some of the other bio-energy initiatives, such as the transformation of corn into bio-fuel. Some people say that using corn deprives Third World countries of food. Waste cooking oil is just that - pure waste - that will be converted into energy. There is no other use for it. So, this is a great initiative.
Thank you, Scott Stringer. Thank you George McDonald. Thank you Russ and Daughters for being a part of this experiment that I know is going to produce good things.