Farm Workers Rally For Equal Rights

West Capitol Park, Albany, NY
Tuesday, May 12, 2009 [1:15 P.M.]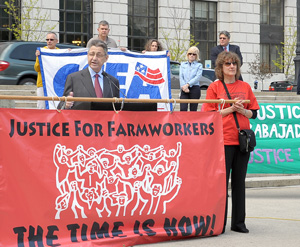 Farm workers of New York State, let me hear your voices!
That's pretty good, but I have to tell you, these walls around us are pretty thick. So as loud as we can, let's tell them what we want:
We want justice! We want justice! We want justice!
I believe that this is the year - 2009 - when farm workers will receive the justice you deserve.
In this, the State of New York, where we pride ourselves on standing up for civil rights, that farm workers are treated like second-class citizens is a moral outrage!
In this, the 21st Century, that farm workers should be denied a fair day's pay for a fair day's work, denied a day of rest, denied safe and sanitary working conditions, is a moral outrage!
Agriculture is the largest industry in this state, because your hard work helps to make it so.
That farm workers should be denied unemployment insurance, denied workers compensation insurance, denied the right to bargain collectively, is a moral outrage.
For too long, this state has turned its back on our farm workers. This must be the year when we make things right!
I came here this afternoon to tell you that the Assembly Democrats stand with you.
We stand with Kerry Kennedy. We stand with Denis Hughes and the AFL-CIO. We stand with Alan Lubin and the New York State United Teachers. We stand with all of the religious organizations that are here today in support of farm workers.
Years ago, the Assembly Democrats led the fight - and we won the fight - to cover farm workers under the minimum wage law. This year, we will lead the fight to guarantee you equal rights under the law and we will pass your Farm Workers Bill of Rights.
Whatever happens, I promise you this, I will not stop fighting;
Our great Labor Committee Chair, Assembly Member Susan John and her predecessor, Assembly Member Cathy Nolan, will not stop fighting;
The Assembly Democrats will not stop fighting for you;
Until our farm workers receive from this state, the dignity, the respect and the justice that you deserve.
This is a new era of Democratic leadership in the Empire State. Now is the time for change.
So, let's do the hard work. Let's make our voices heard. Let's make 2009 the Year of the Farm Worker in New York State.