2009 NYS Police Officers Memorial Remembrance Ceremony

Empire State Plaza - Police Officers Memorial - Albany, NY
Tuesday, May 19, 2009
Thank you, Deputy Secretary O'Donnell.
Members of Law Enforcement. Governor Paterson. Senator Smith.
Comptroller DiNapoli. Deputy Secretary O'Donnell. County Executive Breslin.
Members of the Clergy. Fellow Legislators. Ladies and Gentlemen.
To the families and the friends, the brothers and the sisters of the law enforcement officers that we honor today, I humbly offer the respect and the heartfelt gratitude of each and every member of the New York State Assembly.
We add our voices to those of the good citizens of our state in thanking the Creator for blessing us with heroes of indomitable courage and a profound sense of duty, to answer the call and to meet head on, the destructive forces of human nature.
I did not have the privilege of knowing the officers whose names have been added to the Memorial this year. What I do know is that law enforcement is a calling like no other calling in the world.
Consider. We train these brave men and women to be both soldiers and peacemakers.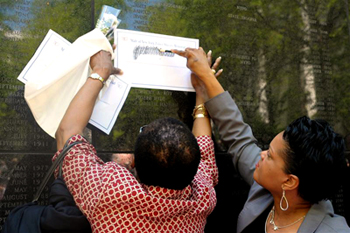 We vest them with authority and demand that they employ it more wisely than we do.
We issue them uniforms that include body armor.
We send them into danger, into chaos, into crisis, expecting them to be prepared for the unexpected;
Expecting them to make perfect, split-second, life and death decisions at any given moment.
We expose our law enforcers to every kind of monstrous behavior hoping all the while that they will not become disillusioned;
Will not crack under the enormous pressure;
Will not decide that the culture we have created is no longer worth fighting for.
G-d help us if they do.
In the end, we demand that the men and women of law enforcement be models of nobility and wisdom, of valor and endurance, of compassion and character; to be more than ordinary men and women.
Ultimately, we expect them to defend us with their lives, all as if creating that free and ideal community were their responsibility and theirs alone.
I look at this wall and I see the enormity of the task they carry out so admirably every day.
I see all of the honor, bravery and sense of duty of which humankind is capable.
I look again and I despair, because until we bind together rights and responsibilities, freedom and conscience, dignity and life - and make them our priority - we will continue to add our heroes' names to this wall.
As President John F. Kennedy once said, "As we express our gratitude, we must never forget that the highest appreciation is not to utter words, but to live by them."
May the heroic spirits of the fallen live on in us and guide our actions.
May we make New York State a place worthy of the men and women who have fallen in the line of duty.
To the families of the officers we honor today, I thank you for sharing their lives with us.
I thank you for the service and the hope your loved ones have given us.
May G-d bless, guide and protect our valiant law-enforcement officers wherever they are serving.
Thank you.