Bill Signing: Extending Unemployment Benefits
Capitol, The Red Room
Wednesday, May 20, 2009
[As Prepared for Delivery]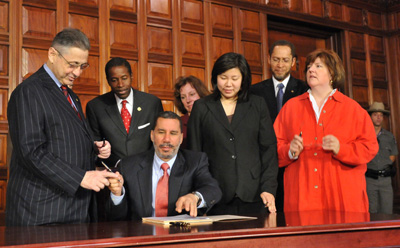 Thank you, Governor.
I am delighted to be standing with you, Governor, and with Senator Smith, and to be joining you in delivering a measure of relief to those New Yorkers who are struggling with unemployment and facing the expiration of their benefits.
Yesterday, as you know, the Assembly - in a bipartisan show of support - passed this legislation, allowing the State to receive this one-time federal grant that makes this announcement possible and enables us to provide an additional 13-week extension to those who have exhausted their unemployment insurance benefits.
I join Senator Smith and our colleagues in both houses of the Legislature in commending you for your leadership. You saw this coming several months ago. You advocated for this in Washington. In addition, you have been able to keep a human face on this complex financial crisis.
I join you in commending the President and our Congressional Delegation for their leadership in delivering the federal stimulus dollars that we needed in order to extend unemployment benefits for New Yorkers who have lost their jobs.
Let me also acknowledge the great work, generally and on this particular issue, of the Chair of the Assembly's Committee on Labor, Assembly Member Susan John, as well as a newcomer to the Assembly who jumped right on this legislation, sponsored it and shepherded it through our house, Assembly Member Grace Meng.
The simple fact is that as hard as we are working - and must continue to work - to bolster the economy of New York State, we cannot forget the individual citizens and the working families out there, who are the casualties of this "man-made" recession.
I am particularly pleased that we are in agreement to extend benefits to those workers who must leave work for a compelling reason; whether it is domestic abuse, an illness in the family, or keeping families together when they must move.
We are also allowing part-time workers to pursue job opportunities and still qualify for unemployment benefits.
There are 56,000 New Yorkers, as has been stated, whose unemployment benefits will run out next week; 5,000 more the week after.
Governor, although I do not have a birthday present for you today, I am likewise grateful that in honor of your birthday, we are delivering assistance to so many New Yorkers and alleviating the suffering of so many New Yorkers, who look forward to this benefits extension to replace their lost paychecks.
Thank you, again, for your leadership, Governor.