FOR IMMEDIATE RELEASE:
May 26, 2009

Speaker Silver, Assemblymembers Arroyo And Towns, Laud Nomination Of
Sonia Sotomayor To Nation's Highest Court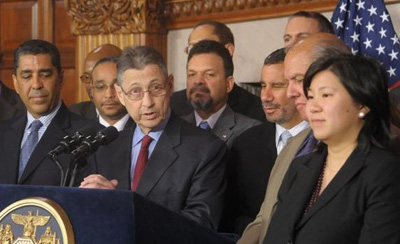 Silver (center) joins Gov. David Paterson and other Assembly members at the Capitol to mark President Obama's historic nomination of the Bronx-born Federal judge Sonia Sotomayor of the Second Circuit Court of Appeals to the United States Supreme Court. The Speaker is joined by (from left) Assembly Members Adriano Espaillat, Darryl Towns, Jose Peralta, Michael Benjamin, Felix Ortiz, Adam Clayton Powell IV, Gov. Paterson, Peter Rivera and Grace Meng.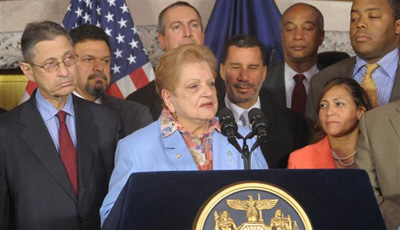 Bronx Assemblywoman and Assembly Puerto Rican, Hispanic Taskforce Chair Carmen Arroyo (center) also shared her enthusiasm for President Obama's U.S. Supreme Court nominee, Judge Sonia Sotomayor, who grew up in the Bronx. As a Puerto Rican mother, Arroyo urged mothers around the world to raise their children with dignity and "use that dignity to prepare them for the future and there will be more Sonia Sotomayors." (From left) Speaker Silver, Assembly Members Felix Ortiz, Gov. Paterson, Gary Pretlow, and Naomi Rivera.
Assembly Speaker Sheldon Silver today praised the decision by President Barack Obama to nominate Federal Judge Sonia Sotomayor of the Second Circuit Court of Appeals to the United States Supreme Court. If confirmed by the United States Senate, Sotomayor would replace retiring Justice David Souter.
Silver said Sotomayor's excellent credentials and experience at the trial court and appellate court levels make her one of the most experienced jurists to be nominated to the nation's highest court. Silver noted that both Democratic and Republican administrations had recognized Sotomayor's talent and had selected her for federal judicial appointments.
Silver (D-Manhattan) said, "Sonia Sotomayor epitomizes the New York experience and the American dream. I strongly support her nomination and extend to her the heartiest of congratulations for securing this honor. President Obama has once again shown that he appreciates New York's tremendous talent. One of the most experienced candidates ever nominated to the bench, Sonia Sotomayor's nomination is yet another shining example of how talent, grit, determination and dedication can overcome any set of circumstances."
Assemblywoman Carmen Arroyo (D-Bronx), Assembly Puerto Rican and Hispanic Task Force Chair, said, "As a Puerto Rican woman representing Puerto Rican women, and as a mother I am very happy. This shows what parents can do for their children, with their time and education. As a Bronx resident, I am thrilled. It's a great day."
Assemblyman Darryl Towns (D-Brooklyn), Chair of the Assembly Black, Puerto Rican, Hispanic & Asian Legislative Caucus, said, "By appointing Sonia Sotomayor, President Obama not only chose a justice with vast knowledge and experience, but he also added new diversity to the Supreme Court, which will become more reflective of the country it serves. I congratulate Ms. Sotomayor on this historic occasion and look forward to watching her grow in this new position."