Public Leaders Meeting On Energy

Red Room - Capitol
Wednesday, May 27, 2009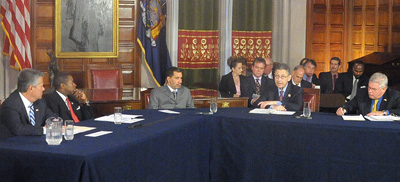 Assembly Speaker Sheldon Silver addressed a public leaders meeting on New York's energy standards and efficiency. Silver said that the Assembly would seek to extend the state's Power For Jobs program, which provides reduced cost energy to businesses that commit to retain and grow jobs. The Speaker noted that the business community has benefited significantly from this program.
I want to thank you for putting energy on our agenda today. I believe the issue of energy is central to the economic recovery of New York.
As far as the Assembly Majority is concerned, we ought to move forward with a broad energy agenda. We stand with you in your goal to make New York a national leader by meeting 45% of our electric energy needs through greater efficiency and use of renewable energy by 2015.
We just addressed Power For Jobs and I think between the words of the Senate Majority Leader and the Minority leader, we should do an extender as quickly as we can to give businesses the assurance that Power For Jobs will continue in this state. Businesses need certainty. I would ask that we allow time in the next session to put a permanent or multi-year solution in place, rather than have an expiration on the day, close to the day or the last day of the legislative session. That's the only reason I wouldn't go the full year. I would try to give us a target to work on it in May so that there is a need to take action before the rush of end of session bills. That is when we tend to do extenders rather than come up with creative ways to give the business community of this state more certainty as to what the future will look like.
I am joined here by the chair of our Assembly Energy Committee, Kevin Cahill. I'm working with Kevin, our conference and with Assemblyman Kolb and his conference I am confident that we will be able to enact several pieces of critical legislation in the remainder of this session to advance that 45 by 15 goal that you had set.
This year's federal stimulus bill, along with existing state funds from the Regional Greenhouse Gas Initiative, present us with a unique opportunity to jump start this agenda and power New York's economic recovery with the creation of green jobs throughout New York State.
In addition, we must continue our efforts by accessing a significant portion of the $16.7 billion dollars in Federal Stimulus Competitive Energy Grants for energy research, development of new technologies and smart grid investment programs.
As part of this effort, we need a statutory authorized Energy Plan. We need to enact an Article X process, so we are prepared to move forward with new facilities once our economy begins to recover. We have to build on our success from last year and strengthen net metering. I believe that we need to find a compromise, so that the Long Island Power Authority is really subject to a PSC rating setting. Power For Jobs, as I said, should be renewed, but it should be renewed with the goal of setting a more definitive plan for businesses. We must hold businesses accountable for job retention and creation while recognizing the impact of the current economic crisis and providing energy audits to assist all businesses in reducing their costs.
Finally - we should not end this session without enacting a Green Jobs/Green Homes Initiative.
The Assembly is working to put forward a plan that will provide energy audits and energy efficiency retrofits to residents, to small business, and to not-for profits.
Residential energy use is responsible for about 40% of New York's greenhouse gas emissions. By reducing consumption we can cut demand and make progress towards your 45 by 15 goal.
Energy retrofits also mean savings for homeowners, for tenants and for business owners through energy bill savings.
Our plan will leverage private investments with funds from the Regional Green House Gas Initiative and Federal Stimulus funds. It opens up the opportunity for innovative programs that allow New York's working families and businesses to get long term energy savings and meet the ambitious goals that have been set.
That is the entire energy agenda we have, Governor.