FOR IMMEDIATE RELEASE:
September 24, 2009

Silver Joins Chief Judge Lippman in Tribute to Sotomayor, Newest U.S. Supreme Court Justice and the Only one From the Bronx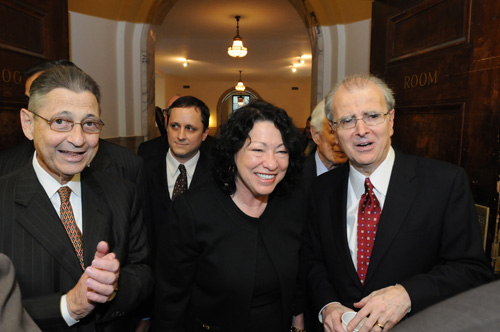 Speaker Sheldon Silver (left) and State Court of Appeals Chief Justice Jonathan Lippman (right) pay tribute to newly confirmed U.S. Supreme Court Justice Sonia Sotomayor (center) at an event hosted by the state's highest court.
Members of the court and honored guests gathered at the New York County Courthouse to acknowledge the significant accomplishments of Sotomayor, who hails from the South Bronx, graduated from some of the nation's most esteemed academic institutions, prosecuted criminal cases for the Manhattan district attorney's office and served for nearly two decades with distinction as a federal justice.
"Sonia Sotomayor epitomizes the New York experience and the American dream. I congratulate her on her historic ascension to our nation's highest court. One of the most experienced candidates ever nominated to the bench, Sonia Sotomayor's confirmation as a Justice of the Supreme Court of the United States is yet another shining example of how talent, grit, determination and dedication can overcome any obstacle to success," said Silver upon learning that Sotomayor would be President Obama's very first nomination to the Supreme Court.
Silver noted that Sotomayor will serve on the court with another one of the state's distinguished residents, Brooklyn-born Supreme Court Justice Ruth Bader Ginsberg.
"The confirmation of Justice Sotomayor is a proud moment in New York's history because it's another reminder of how the best and brightest of our state are again called upon to contribute to our nation's greatness and its role throughout the world as the protector of equality, civil rights, the rule of law and freedom," said Silver.