Public Leaders Meeting On Deficit Reduction

Capitol
Wednesday, October 21, 2009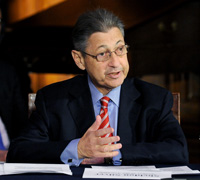 I just want to say that my Assembly members and fiscal staff have reviewed your projections for the current year and I want to put squarely on the table that we agree with the deficit forecast of $3.1 billion.
We think it is an accurate forecast. The budget we enacted in April assumed no growth in state revenues. Unfortunately, due to the ongoing decline in both employment and consumer spending, New York has actually experienced a 15.9% drop in revenue through September of this year.
Governor Paterson and Lieutenant Governor Ravitch have proposed a straight forward approach to this deficit.
The Assembly Majority has fought for many years to make New York State a fair and more equitable place to live - a state that provides its citizens with quality public schools, affordable housing affordable college education, and clearly access to health care, safe, efficient mass transit and a cleaner environment.
Many of the reductions in your proposal, Governor, will clearly be painful and inconsistent with the goals we've fought for. I believe though there is strong agreement within the members of the Assembly Majority that failure to deal with this problem now through manageable cuts will lead to even greater problems -- with devastating consequences -- in the very near future.
On Monday, I began a series of regional conferences with members, first meeting with the downstate members in New York City and then Tuesday meeting the Western New York members in Buffalo. Today I'll be meeting with the Central New York and Capital District members here in Albany to get their view. Immediately after this meeting we will have that.
As we speak, the Assembly Ways and Means Committee is currently holding the first of two budget meetings under the leadership of our chairman of Denny Farrell to gather public input on the plan you put out, Governor. Our second hearing on that will be held this Friday in Syracuse.

I intend to work with my colleague Brian Kolb who I've spoken to and achieve a result on a bipartisan basis because I believe that is the message this state needs, that this deficit is not about political bickering but it is about everyone recognizing obligation to govern responsibly in this state. So, we will join you in meeting the savings target established for state agencies and continue some frank discussions with committee chairs and members in order to come back with specifics that accept or modify the proposal that you have handed us -- and I assure you that we are on an expedited timetable understanding that action will be required in the very near future.
We've already had members present some ideas and some concerns.
RoAnn Destito, our Government Operations Committee chair, has done extraordinarily detailed work illustrating how state government can achieve significant savings in technology purchases and deliveries. Also, Assemblymember Susan John, our Labor Committee chair, has identified savings through the reduction of outside consultant contractors. We will urge you to look at those recommendations and put them into effect as part of any final deficit reduction plan.
The proposed cut to Health Care reduces State spending by $286 million, but will result in an additional $464 million in reduction in the federal share we receive on this health care spending. We must make a determination - I would suggest during the Lieutenant Governor's trip tomorrow would be a start - if there is any way to lessen the reduction in Federal money so that the overall impact on the health care delivery system is lessened as a result of your proposed cuts. And we have an obligation to determine if there is any way to lessen the significant impact of the mid-year cut proposed to our schools.
Our members are concerned with the method used to determine a particular percentage cut in some of your proposals, in particular Aid to Municipalities, where percentages vary from city to city.
Our members are also asking you to reconsider entirely reductions in SSI benefits and TAP. A cut of $14 per month to an individual receiving an SSI benefit of $87 per month or a cut of $9 for an individual receiving $23 should be reconsidered - as does the $120 cut in tuition assistance to low and middle income students.
The only other point I would make and I know will be raised today is I am skeptical of the numbers that I know will be thrown out and have been thrown out by members and various conferences around the avoidance of sales and excise taxes on Indian land. I believe, particularly during a recession though, it is fair for members and the public to ask: How much revenue, if any, can be reasonably expected from the collection of those taxes and is the plan to move forward consistent to the law?
These problems are clearly not unique to New York as you have already expressed. Across the country states are grappling with the consequences of the economic downturn and calls for additional Federal assistance to states should and will continue to grow.
At this time, I am confident that we in the Assembly are making progress towards addressing the challenge and I want to reiterate the Assembly Majority's resolve to pass a significant and responsible Deficit Reduction Plan.
Thank you, Governor.