FOR IMMEDIATE RELEASE:
November 15, 2009

Assemblyman Silver, Congresswoman Maloney, Elected Officials And Community Leaders Rally With Co-Op Village Residents To Save
Pitt Station Post Office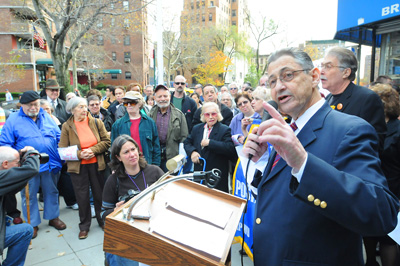 Speaker Silver addresses protesters at a Lower Manhattan rally, sharing their opposition to the planned shutdown of the Pitt Station Post Office as called for by the federal government. Silver, who was joined by Congresswoman Carolyn Maloney, has collected thousands of signatures, met with other Congressional representatives and sent letters to the U.S. Postal Service to fight the station's proposed closing.
Assemblyman Sheldon Silver, Congresswoman Carolyn Maloney, representatives from Co-op Village and elected officials and community leaders joined members of the community to rally to fight the closure of Pitt Station Post Office at 185 Clinton Street today. Pitt Station is one of 16 listed post office for closure in New York City and 371 nation-wide.
Assemblyman Silver has collected thousands of signatures to fight the closure, held meetings in his office with New York City representatives of the United States Postal Service, submitted testimony to the Postal Regulatory Commission Hearing, and has written a number of letters to the Postmaster General to fight to keep the post office open.
"The community support for Pitt Station has been tremendous. This is a post office that is used by so many as not only a place to mail packages, but it is a real community space, where neighbors see and visit with one another," said Silver. "Closing Pitt Station would greatly impact people's lives and the US Postal Service needs to see that and keep Pitt Station open."
Pitt Station, also known in the neighborhood as the Clinton Street post office, serves thousands of residents on the Lower East Side. Co-op Village consists of four cooperative complexes: Seward Park, Hillman Houses, Amalgamated Houses and East River Houses. Co-op Village has officially been designated a Naturally Occurring Retirement Community (NORC) which means that 80% of the residents are over the age of 55. In a NORC, the residents tend to age in place, creating a large senior population.
The closure of Pitt Station would create a significant hardship for many seniors. The nearest post office is not on a bus route, like Pitt Station, and it is not as accessible to the disabled. Pitt Station is on the ground floor, while Knickerbocker Post Office is accessed by either stairs or an elevator, for which an attendant needs to be paged to operate.
Along with Co-op Village, there are four New York City Housing Authority (NYCHA) developments, a Section 8 development, Mitchell-Lama co-op and a number of tenement style buildings that use Pitt Station as their primary post office. These renters often pay their rent with money orders that are obtained from Pitt Station.
Also expected in attendance at the rally are Senator Daniel Squadron and Councilmember elect Margaret Chin.