FOR IMMEDIATE RELEASE:
November 18, 2009
Silver Joins Governor To Sign
The Toughest DWI Legislation In Nation Into Law
Silver joined Gov. David Paterson at the Capitol for the signing of a measure to establish the toughest DWI law in the nation. Silver praised Lenny Rosado, the father of 11-year old Leandra who was killed in a drunk driving accident last month. Mr. Rosado advocated strongly for this legislation.
Toughest Law In The Nation

Lenny Rosado Made This Possible

Assembly Fulfilled Commitment

Silver Remarks In Full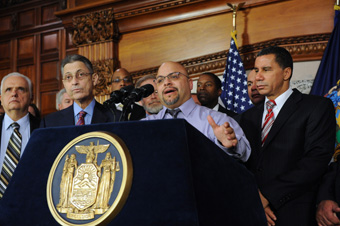 Leandra's father Lenny Rosado addressed the news conference expressing his ongoing commitment to public safety. Rosado said losing his only child has committed him to making sure no other parent or grandparent will lose their child or grandchild due to drunk driving.