FOR IMMEDIATE RELEASE:
November 18, 2009

Assembly Approves Public Authority
Reform Legislation

Independent Authorities Budget Office Provides Greater Oversight and Accountability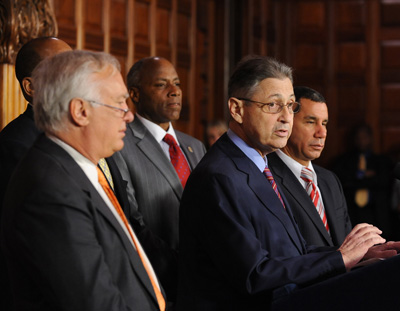 Speaker Silver (center) called the legislation to reform the state public authorities, which was approved with bipartisan support in the Assembly and sent to the Senate, a "victory" for taxpayers and the "turning point in government transparency" at a Capitol news conference with (right) Gov. David Paterson. Silver and Paterson were joined by the bill's sponsors (from left) Assembly Corporations, Authorities and Commissions Committee Chair Assemblyman Richard Brodsky and Corporations, Authorities and Commissions Committee Senator William Perkins and Senate Democratic Conference Leader John Sampson (not shown) to discuss how the measure helps ensure that state public authorities become more effective in meeting the needs of New Yorkers.
Assembly Speaker Sheldon Silver and Corporations, Authorities and Commissions Committee Chair Richard Brodsky announced today that the Assembly passed groundbreaking reform legislation in extraordinary session, vastly increasing oversight of public authorities to make them more transparent and accountable (
Extraordinary Session Assembly Bill A.12
).
This legislation includes provisions that:
Subject board members to oath of office or acknowledgement of fiduciary duty to the authority;
Dramatically expand the powers of the independent Authorities Budget Office (ABO) within the Department of State and make all ABO information available to the public;
Require authority boards to establish finance committees to review proposals for debt issuance by an authority and its subsidiaries and make recommendations;
Subject state and local authorities to additional reporting requirements, such as authority board performance evaluations;
Require certain appointments to be confirmed by the Senate for the Dormitory Authority (Executive Director), Thruway Authority (Executive Director), Power Authority (CEO) and Long Island Power Authority (CEO);
Give the State Comptroller the power to pre-approve state authority contracts valued at over $1 million that are not competitively bid and contracts that are paid with the state funds appropriated to the authority;
Establish rules governing and limiting the creation of subsidiary public corporations and authorities;
Authorize the disposition of property below market value when the transfer is to a government or public entity and the purpose of the transfer is within the mission of the authority;
Require state authority contracts to comply with the minority and women-owned business enterprise (MWBE) statute;
Provide whistle-blower protection for employees of public authorities, to protect those individuals who report wrongdoing; and
Require debt limitation plans for each authority.
In 2006, New York State enacted the Public Authority Accountability Act, which created the Authorities Budget Office to regulate public authorities. Earlier this year, the Senate and Assembly passed legislation that would further reform public authorities by providing additional oversight and whistleblower protections.
Currently, the more-than-700 public authorities that exist in New York State still function in an autonomous fashion and accumulate billions in state debt. Ongoing investigations into several authorities have highlighted the need for improvements in transparency and responsiveness.
"The passage of this legislation represents a victory for tax-paying constituents and marks a turning point in government transparency," said Silver (D-Manhattan). "By reining in public authorities through the creation of an independent budget office, we will see increased accountability and greater financial responsibility."
"This is the most fundamental reform of Albany institutions in decades," said Brodsky (D-Westchester). "A system of Soviet-style bureaucracies is being reclaimed for the people of the state. This is a reform that matters in the daily lives of New Yorkers. Iím grateful to my colleagues and to the Speaker for their intelligence and continuing support of these reform measures".