Public Authorities Reform Press Conference

Executive Chamber Press Room, 633 Third Ave., Manhattan
Friday, December 11, 2009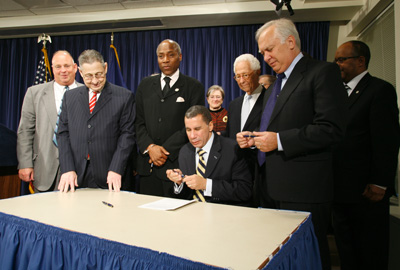 Assembly Speaker Sheldon Silver (first row, left) commended Gov. David Paterson (seated) for signing legislation to reform the state's public authorities. At the bill signing ceremony, Silver praised Assembly Corporations, Authorities and Commissions Chair Richard Brodsky(far right), who in 2003 first sponsored legislation the Assembly passed for many years that called for the reform of the authorities. The Speaker said the authorities strayed from their missions, took on extraordinary levels of debt and poorly managed their funds. Also taking part in the ceremony were (second row, left) New York Power Authority President and Chief Executive Officer Richard Kessel and Senator Bill Perkins.
Thank you, Governor, and thank you once again for your leadership on this particular issue. Let me express the gratitude of all of my Assembly colleagues for making public authority reform a key component of the extraordinary session of the Legislature that just concluded.
It is a particularly gratifying moment for me and for all of my colleagues, because we have been leading the way on public authorities reform and have invested a lot of time and effort to bring New York to this important day.
I can think back to 2003 when we began a two-year investigation into the management - or should I say the "mismanagement" of many of some of our public authorities. What we found was that a lot of these entities were taking on an extraordinary amount of debt, were burning through their funds, and were straying from their intended missions.
To remedy the situation, Assemblyman Richard Brodsky introduced and the Assembly passed the Public Authority Accountability Act of 2005, which was an important step toward improving the operation and oversight of our public authorities. We knew additional action would be needed.
The legislation that the governor will sign into law in a few moments also had its origins in the Assembly and was developed and refined through the open and public committee process, which included a number of public hearings.
At this point, let me congratulate the Chair of the Corporations Committee, Assemblyman Richard Brodsky, who has led this fight to reform our public authorities for a number of years.
Let me acknowledge the many members of the Assembly who joined with Assemblyman Richard Brodsky on this fight, but who could not be here with us today. They sought, very correctly, to shed light on what was our so called our "shadow government". Thanks to all of their hard work, this afternoon the governor will sign into law a bill that will among a variety of measures:
Expand the authority of the independent budget office and ensure it will be truly independent;

Ensure proper oversight of public authority property when it is being sold below fair market value;

And gives the State Comptroller the important approval process over many of the public authority contracts.
Let me also acknowledge the great work that Ira Milstein - an expert in this area - has done over a number of years, especially in the last few months. He drafted many pieces of legislation, issued a report on the authorities, and worked with Assemblyman Brodsky, with myself, and with the Governor to bring about this legislation.
Thank you Ira, for the time you volunteered in that regard.
Yesterday, as you know, we enacted historic pension reform that will save taxpayers millions of dollars over the next decades.
Today we are making our public authorities more accountable and fiscally responsible.
In the future, I expect that the Governor will sign into law another Assembly initiative to reduce costs by reforming the way the state procures information technologies.
We are saving money. We are making improvements to the way we spend money into the future. We are reforming government and looking forward to continuing to work with the Governor and with our colleagues in the Senate.
Congratulations Governor, on another job well done.