Governor's Press Conference
Unveiling The Findings Of The NYS Industry & Higher Education Task Force

New York Stock Exchange, Executive Floor, Room 632, Manhattan
Monday, December 14, 2009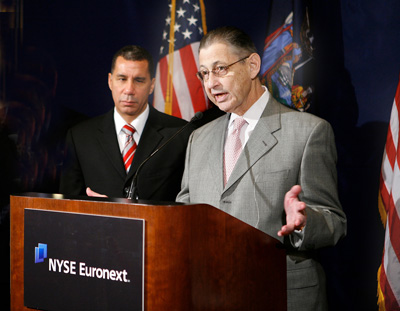 Assembly Speaker Sheldon Silver (at podium) comments on an economic development report delivered to Gov. David Paterson (left) by the Task Force On Diversifying the New York State Economy Through Industry-Higher Education Partnerships. Silver noted that he looks forward to reviewing the reports recommendations and building on what the Assembly has been doing for more then a decade: investing in the state's world-renowned higher education and research institutions where public and private partnerships have nurtured innovation and created jobs.
Thank you, Governor. Allow me to commend you both for your efforts to nurture the expansion of that 21st Century information based/innovation driven/job creating economy that we need in every corner of New York State, and for your leadership in convening this task force.
Let me also commend the Chair of the Industry-Higher Education Task Force, Cornell University President David Skorton and all of your colleagues for taking up the Governor's challenge and for all of the time and the effort you have invested in this report.
By its very nature, the task force answers the question, "how do we revitalize and grow the economy of the Empire State?"
The key is partnership: public and private; state, federal and local government working with business and industry, with Labor and with our greatest asset of all - our world-class colleges, universities and community colleges - to accomplish the goal of restoring the State of New York to its historic role as a national and international engine for innovation, opportunity and job creation.
I know that I speak for my colleagues in the Assembly when I say how pleased we are that the findings of this Task Force are yet another validation of the job creation/economic development strategy that we have been advocating and acting upon for a decade-and-a-half.
I and my Assembly colleagues not only applaud the task force report, we are here to re-affirm our commitment to its principles and to this partnership.
If I might, let me take a moment to acknowledge three members who are here this morning:
Assembly Member Cathy Nolan, the Chair of the Committee on Education;
Assembly Member Deborah Glick, the Chair of the Committee on Higher Education.
And Assembly Member Marc Alessi, Chair of the Sub-Committee on Emerging Workforce.
When I was chosen Speaker, I made education and job creation the Assembly's two most important goals to achieve.
After conducting a series of roundtables with leaders from across the state, we declared that the old-fashioned "one-size-fits-all" approach to economic development was no longer relevant, so we decided to build a better model.
We began by investing in Albany Nano in 1995.
A pitch by Doctor Alain Kaloyeros and a five-million-dollar commitment of discretionary funds from the Assembly (the first commitment of state funds in that project), leveraged private investment that has transformed the University at Albany into a global leader in nanotechnology education, job training, research, development and commercialization and established in Upstate New York the largest, most state-of-the-art, high-tech complex in the academic world.
It is attracting the largest players in the semiconductor industry and some of the best and brightest researchers from around the world all while spinning off new ventures and helping the Capital Region retain and create hundreds of jobs.
This year, with great optimism for the future, I joined the Governor and other public and private leaders in announcing "CHIP:" the New York State Computer Chip Hybrid Integration Partnership with the SUNY Institute of Technology at Utica-Rome, one of the more economically hard-pressed areas of our state.
So now, we are creating partnerships between our public universities to develop nanotechnology corridors throughout this state.
This should be the example for us as we go forward.
We are investing spur the growth of a bioscience corridor in Western New York in conjunction with the Hauptman-Woodward Institute and we are working to advance the JP Morgan Chase Technology Center at Syracuse University, which is offering a new curriculum in global enterprise technology that will ensure New York remains at the forefront of the financial services industry.
We have a significant challenge ahead of us.
Speaking for the Assembly, we look forward to working with this Task Force and with the Governor to create the jobs we need today, and to foster the more prosperous New York we want for our children and for future generations.
Thank you.