Opening The 233rd Legislative Session

Assembly Chamber
Monday, January 11, 2010
Assembly Speaker Sheldon Silver (standing) delivered opening remarks from the rostrum of the Assembly chamber to begin the first day of the 2010 legislative session. The Speaker was joined by Rabbi Haskel Lookstein, who opened the Assembly session with an inspirational prayer. Rabbi Lookstein leads the Congregation Kehilath Jeshurun in New York City.
The People's House Must Provide Leadership

Restore Faith in Government

Silver's remaks in their entirety

Majority Leader Canestrari. Chairman Farrell. Minority Leader Kolb. Members of the Assembly. Staff and Guests.
As is the custom, let me begin our work in this, the 233rd session of the New York State Assembly, by extending to you, my colleagues, to your families, to our guests, and to all of our staff my best wishes that 2010 be a year of good health and good fortune.
Undoubtedly, it will be a memorable one as well.
Joining me on the dais this afternoon is a highly respected leader of America's Jewish community, Rabbi Haskel Lookstein.
Among his many leadership roles and his commitments to service, Rabbi Lookstein leads Congregation Kehilath Jeshurun in New York City and he is the Principal of the Ramaz School, one of the Jewish community's premier yeshiva day schools.
Rabbi, we thank you for opening our session with your inspirational prayer and on behalf of the House, I welcome the students who have accompanied you from the Ramaz School.
As you already know, a member of this House is a graduate of the Ramaz School.
Rabbi, students, please know that you are welcome to join us at any time. I hope that one day, one or more of your Ramaz students will participate in the Assembly's outstanding public internship program.
Now, let us give a warm and generous welcome to the men and women of the Assembly Intern Class of 2010.
Accompanying these bright, young men and women are two of our distinguished instructors, Professor Dennis Smith of the New York University Robert F. Wagner Graduate School of Public Service, and Associate Professor Helen Desfosses of the University at Albany's Rockefeller College of Public Affairs.
Their leadership continues to make ours one of the finest public internships in the nation.
Professors, we thank you for being here this afternoon, and we thank you for your service.
My colleagues, let me point out … that this session, we have 166 interns representing 39 colleges and 23 academic disciplines; making the Assembly Intern Class of 2010, the largest and most competitive intern class in the history of our program.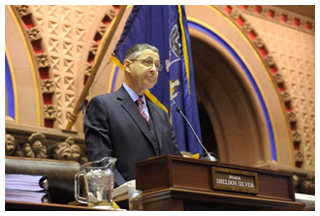 Interns, we welcome you to this, The People's House of the New York State Legislature.
As you can tell, we take pride in our public internship program and are committed to making your Assembly experience both enlightening and rewarding.
We urge you to make the most of this your opportunity here.
Let us also take a moment to remember those New Yorkers who are the embodiment of duty, honor and service - the men and women of our Armed Forces.
In 2009, twenty-four soldiers who resided in our state sacrificed their lives in the war against terrorism. Two hundred fifty-six were wounded. Over the course of 2009, our state flag was lowered 42 times.
Let us observe a moment of silence in memory of these brave soldiers, in sympathy for their families, and in prayer for all members of the American military who are serving in combat zones around the world.
Let us strive to always be worthy of their service and their sacrifice.
Together, the 150 members of this House, with our diversity of backgrounds and occupations, our knowledge, our experiences, the strength of the ties that bind us to our communities and the commitment we share to make them better, we - more accurately and effectively than any other elected body - reflect and speak for the diverse citizenry of the State of New York.
The challenge before us is as clear as it is extraordinary.
The economic decline which began in 2007 is as severe and as harsh any since the Great Depression.
The jobs that have evaporated, the families that have lost their homes to foreclosure, the food pantries that are being over run; you know the reality as well as I.
In every region and county, every city and town, New Yorkers are making extremely difficult decisions.
They are making painful sacrifices. Our people are doing as much as they can with less and less.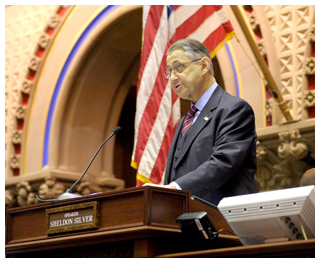 They are looking to us for leadership and for some sense of hope that a brighter future is coming.
We cannot give them leadership that is absorbed with self-interest at any cost.
We cannot give them government so embroiled in battle, it has become oblivious to the hardship and the sacrifice of those it is supposed to be serving.
We are better than this! As the People's House, we must be.
I have always been and will always be profoundly honored to be your Speaker.
Over the years, it has been my great privilege to work in this House with some of the finest leaders, the brightest thinkers, the most passionate champions of civil rights, that American government has ever produced.
I know that the members of this House are among the most generous, forthright and hardworking public servants I have ever known - Democrat and Republican, Liberal and Conservative, Upstaters and Downstaters - which is why we were elected to serve in this House.
This is what I want New Yorkers to see, all of us working together in service to the people. As families across this state make the tough choices and the hard sacrifices, their government must do the same.
We must once again find the will and the way to close this state's multi-billion-dollar budget deficit and help put this state back on the road to recovery.
More spending cuts will be necessary, and when we cut, we will continue do so precisely, with a scalpel rather than an axe, in order to mitigate the impact of cuts in essential services that families across this state depend on.
Tempting as it may be to respond in kind to the slings and arrows of what may well be an outrageous election year, governing must be our first priority and so, we will continue to work in partnership with the Governor and with the Senate to address the needs and the concerns of our state's hard-pressed families.
We will continue working to make government more efficient and less costly, and we will demonstrate our commitment to restoring the people's faith in the integrity of our government.
Hopefully, Minority Leader Kolb and I will soon join with the leadership of the New York State Senate in announcing agreement on significant ethics reform legislation; legislation that will, among other things, establish separate and independent ethics entities, and require fuller, more detailed information on the relationships between the leaders of government and business.
We will also continue our efforts to advance our core agenda.
Job creation is number one. We must continue to nurture our "green" economy and encourage university/industry partnerships to create the high-tech jobs of the future.
Because transportation infrastructure is the backbone of our economy, we must push for a road and bridge plan and ensure that our mass transit systems are efficient, accessible and well maintained.
We will address the Regents' ideas for improving public school performance to ensure that New York receives its fair share of federal education dollars.
Clearly, we must work with our congressional delegation to ensure passage of a federal health care reform bill that is fair to New York State, and to ensure that the reproductive freedoms so many generations of women fought to achieve and preserve are not retracted.
We will continue our fight to protect tenants living in rent-regulated housing, work to expand our stock of affordable housing, and again, act to get illegal guns off of our streets and out of our neighborhoods.
Through it all, we will continue to rely on the those leaders who drive the work of this Chamber.
Once again, we will look to the Chairman of our Ways and Means Committee, the Honorable Denny Farrell, to guide us as we work to address this global, financial crisis.
Denny, they say one can only go to the well so many times, but we come to you again, as we came to you last year, for your leadership, for your expertise, and for the assurance of your wise and generous counsel.
As I weigh the many privileges bestowed upon me by our Majority colleagues, none has meant more to me than the chance to lead this House with you and to have the blessing of your friendship and trust along this journey.
Thank you, Denny.
We are similarly blessed to have the deft but always graceful hand of our Majority Leader, Ron Canestrari, guiding our work on this floor.
Ron, my thanks to you as well, for your loyalty, your support, your sage advice, and most of all, your friendship.
You are an outstanding Majority Leader, and a model of dignity, integrity, patience and class that all who aspire to serve in this historic Body should follow.
We are as fortunate to have you leading our work on this floor as we are to have your friendship and support.
Thank you, Ron.
Minority Leader Kolb, I believe that our partnership has been a productive one.
Though we may disagree on policy, we have been able to set aside partisanship and act with the best interests of this House and of the people that we serve.
You have the respect and the admiration of both sides of the aisle, and we look forward to working with you and your colleagues as we address the serious fiscal challenges facing this state.
Thank you, Brian.
This will be a challenging year in many ways.
Tough decisions, painful decisions, emotional decisions have to be made.
New Yorkers need the legislative process to work as it is supposed to work, with all of the requisite debate and dissent, but they need to know that we are aware of their plight and are working together to make this time of hardship a little easier.
Words matter, but unity and action are what the people deserve. So, let us roll up our sleeves and get to work.