FOR IMMEDIATE RELEASE:
January 21, 2010

Silver, Magnarelli Announce Assembly Support
For MDA "Pike Block" Project In Downtown Syracuse

$3.8 Million Will Support Redevelopment of 300 Block of South Salina Street into Residential and Retail Space, Revitalize Important Section of Downtown Syracuse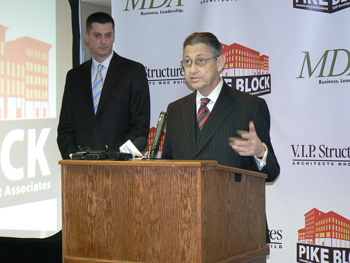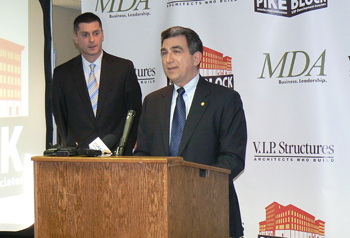 Assembly Speaker Sheldon Silver and Assemblyman William Magnarelli today announced $3.8 million in Assembly support for the Metropolitan Development Association (MDA) "Pike Block" project, a redevelopment and revitalization effort for the 300 block of South Salina Street in Downtown Syracuse.
At an event held today at One Lincoln Center, design-build firm VIP Structures unveiled its plan for revitalizing the 300 block of South Salina Street, including the development of the Chamberlin, Witherill, Wilson and Bond buildings. The 300 block has been dubbed the "Pike Block" after Henry Pike, who built the Witherill building 150 years ago. A committee made up of community and business leaders chose the firm through a competitive process.
"The key to revitalizing upstate New York is investing in projects that will attract businesses and residents to economically struggling areas," said Silver (D-Manhattan). "My Assembly Majority colleagues and I know that it is critical to continue to focus on redeveloping urban areas, and that encouraging economic growth and revitalization is integral to the livelihood of our communities."
"I am pleased to be here for the presentation of the new Pike Project on the 300 block of South Salina Street," said Magnarelli (D-Syracuse). "The redevelopment of this block marks the commencement of the revitalization of Downtown Syracuse. It has been a pleasure working with the Metropolitan Development Association and Speaker Sheldon Silver to secure the funding necessary to make the Pike Block Project a reality."
In 2006, the Assembly allotted a $2 million capital commitment to the Metropolitan Development Foundation (MDF) for the acquisition and renovation of commercial properties located at the 300 block of South Salina Street. The funding is part of $25 million in investment from public and private partners.
Plans for the redevelopment of the 300 block include the creation of 87 one- and two-bedroom apartments and 25,000 square feet of retail space. The renovated buildings will also include 'green' features, such as rooftop rain gardens and permeable paving.
The MDF is an affiliate of the MDA, a non-profit organization that specializes in helping companies relocate or expand in Central Upstate New York.
The redevelopment project will begin in the spring of 2010, and is expected to be completed in the fall of 2011.