Commission On Independent Colleges & Universities (CICU)
35th Anniversary Of The Tuition Assistance Program
40th Anniversary Of The Higher Education Opportunity Program

Well Of The Legislative Office Building
Tuesday, January 26, 2010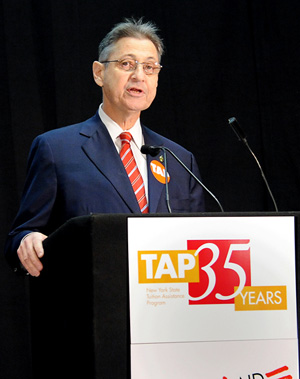 Assembly Speaker Sheldon Silver addressed the Commission on Independent Colleges and Universities in Albany on the 35th Anniversary of the Tuition Assistance Program (TAP) and the 40th Anniversary of the Higher Education Opportunity Program (HEOP). Silver spoke of the Assembly's disappointment with the governor's deep budget cuts to TAP and HEOP. He noted that both financial aid programs have been highly successful and will continue to receive the Assembly's strong support in the upcoming budget negotiations.
Thank you, Laura [President Anglin], for your kind and generous words, and thank you, ladies and gentlemen for your warm welcome.
Senator Sampson. Former Assemblyman and Former Chair of the Higher Education Committee, Ed Sullivan. Professor Allan Ballard. Students. Administrators and Friends of CICU.
It is appropriate and it is necessary that we celebrate the 35th anniversary of the Tuition Assistance Program as well as the 40th anniversary of the Higher Education Opportunity Program, now named in honor of one of its greatest champions, my longtime friend and former Assembly colleague, Arthur O. Eve.
It is appropriate to celebrate, because these programs have opened the doors of higher learning to thousands upon thousands of students since the Sixties and Seventies, enabling men and women to earn degrees, achieve their dreams, and emerge as the leaders and the innovators that New York and our nation have needed and continue to need in our government and in every field of human endeavor.
More profound than this, TAP, HEOP and all of our college discovery and opportunity programs are a resounding affirmation that education - from pre-K to B.A. and beyond - should be considered a civil right, and not the province of the wealthy and the elite, as it had been a century ago.
I believe this and I know that the majority of my colleagues in government - many of whom are present here this afternoon - agree with this principle.
Still, we know from experience that in times when money is tight, governors have proposed reductions in TAP and in opportunity programs such as HEOP, as if subtracting from the greatest investment the State can make in its own future makes sense.
I am proud to say that the Assembly has fought relentlessly and successfully over the years to keep open the gates of higher education so that all New Yorkers can benefit.
Over the years, these fights have been led by the Chair of our Higher Education Committee, Assembly Member Deborah Glick and her predecessors, including former Assemblyman Ed Sullivan.
In 2010, we face that fight once again.
As part of his plan to close a multi-billion-dollar deficit, this Governor is proposing a higher education budget that is specifically targeted to hit the budgets of low-income and working families.
He is proposing $52.7 million dollars in reductions to TAP, including:
An across the board cut of seventy-five dollars;

A one-thousand-dollar reduction in the maximum awards for students enrolled in proprietary colleges that grant two-year degrees;

And he is eliminating TAP eligibility for all graduate students.
Seen in terms of his $133.9 billion executive budget proposal, these actions seem miniscule, but the damage the Governor's cuts will inflict on working families and less affluent students would be severe.
Tough times call for tough measures, but tough measures should also be smart measures; and cutting TAP is not a smart measure. Frankly, it is hard to understand.
On December 14th of 2009, I joined the Governor and Cornell University President David Skorton at the New York Stock Exchange for the unveiling of the first report of the New York State Industry and Higher Education Task Force.
At that event, the Governor said, and I quote: "A new economy is emerging in this country, an economy based on knowledge, technology and innovation."
A month later, this same governor raises tuition at our public colleges and universities, cuts TAP and cuts funding to our community colleges. I have said this before and I'll say it again.
We can build all of the higher education infrastructure, all of the laboratories, all of the clean rooms and research facilities that we want.
Doing this without investing in our human capital - the men and women who will do the actual innovating - is like trying to build a house from the roof down.
It is a mistake and I assure you that the Assembly will do what we can to rectify it.
Yes, we have tough choices to make and difficult spending cuts to enact, but we must do so without compromising the economic recovery of our state or the future of our citizens.
We will work with President Anglin and with the members of the Commission to find better ways of reducing costs and we will continue to fight against the governor's reductions in TAP.
In the meantime, I urge you to make your voices heard throughout the Legislative Office Building and the Capitol today.
Let the Governor know student aid is indeed the greatest investment New York can make in its future.
Make the most of your day in Albany. Good luck and thank you for being here.