FOR IMMEDIATE RELEASE:
February 9, 2010

Silver, Canestrari and Other Assemblymembers Announce the Relocation of M+W Group's North American Headquarters to Watervliet Arsenal
Nano Expansion Expected to Generate More Than 250 New Jobs in the Capital Region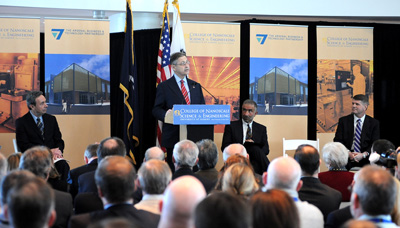 Assembly Speaker Sheldon Silver (at podium) joined the press conference at the SUNY Albany College of Nanoscale Science and Engineering (CNSE) to announce the relocation of the M+W Group's North American headquarters to Watervliet, further expanding its nanofabrication, engineering and design operations in New York State. (From left) Assembly Majority Leader Ron Canestrari and CNSE Senior Vice-President and CEO Dr. Alain Kayloeros and M+W Group President and CEO Rick Whitney.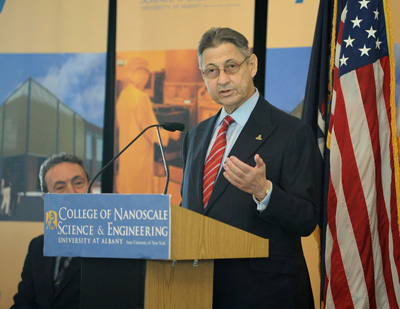 Speaker Silver praised the decision of M+W Group, a global engineering company of nanofabrication facilities, for adding 250 more high-tech jobs to its Capital District workforce. Silver said the firm's investment is precisely what he and Dr. Alain Kaloyeros and (left) Majority Leader Ron Canestrari had hoped for ten years ago when the Assembly invested $5 million in CNSE's first cleanroom.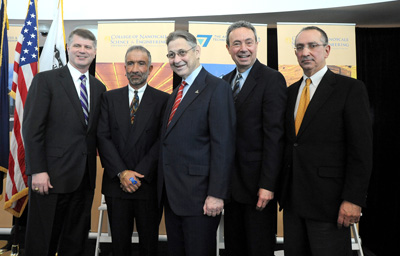 Silver (third from left) also commend the M+W Group for it significant investment in the Capital Region since 2004 that resulted in more than 50 highly skilled construction and engineering support jobs. He also noted the thousands of trade union workers that have been trained in the latest cleanroom construction and maintenance procedures as well as the installation of precision machinery. (From left) M+W Group President and CEO Rick Whitney, CNSE Senior Vice-President and CEO Dr. Alain Kayloeros, Silver, Majority Leader Ron Canestrari and Arsenal Technology and Business Partnership President Tony Gaetano.
Assembly Speaker Sheldon Silver and Capital Region Assembly delegation members today joined M+W Group President and CEO Rick Whitney at the College of Nanoscale Science and Engineering (CNSE) at the University at Albany to announce that the company will relocate its North American Headquarters to the Watervliet Arsenal. Joining them for the announcement were Dr. Alain Kaloyeros, CNSE senior vice-president and CEO and Tony Gaetano, Arsenal Business and Technology Partnership president.
Last year, M+W Group was selected as the general contractor to oversee the construction of Global Foundries "Fab 2" microchip production plant in Malta. The relocation of the nanofabrication facility design and development firm's headquarters from Texas is made possible with $6.5 million in Assembly capital funds geared toward developing Upstate New York's growing nanotech industry. The historic building at Watervliet Arsenal has housed M+W Group'rsquo;s regional headquarters since 2004.
"That an international leader in the nanoscale technology field would locate its North American base of operations here at the Watervliet Arsenal demonstrates the emergence of the Capital Region as a center of cutting edge research and development in this industry," said Silver (D-Manhattan). "Since it moved its regional office at the Arsenal six years ago, M+W has been a critical player in the development of CNSE and is now supervising one of the largest high-tech projects currently underway in the nation."
"I extend my thanks to Rick Whitney, Tony Gaetano, Alain Kaloyeros, and our newest partner, SUNY Chancellor Nancy Zimpher," Silver added. "We must also not forget the hard work of the Capital Region Assembly delegation, which has worked aggressively to stimulate the growth of this industry right here in Upstate New York."
"The expansion of M+W Group's operations at the Watervliet Arsenal and the company's continued investments in our Upstate economy are propelling the Capital Region to the forefront of the global nanotechnology industry," said Assembly Majority Leader Ron Canestrari (D-Cohoes). "I am grateful to Speaker Silver for his continued commitment to New York's growing nanotech industry and am proud to continue to partner with M+W Group as we reshape and rebuild our Upstate economy."
M+W Group has constructed fabs facilities throughout the world, including one operating at CNSE, the IBM MegaFabs plant in Fishkill and a plant Dresden, Germany. An anchor tenant at the Arsenal, the firm is slated to create as many as 250 high-tech architectural, engineering and manufacturing positions. M+W will train high-tech workers in the day-to-day operations of a chip fab facility and devote resources to developing women and minority owned businesses. The Watervliet relocation is integral to the expansion of a high-tech corridor connecting public universities and private research and development firms between the Capital District and Mohawk Valley.
CNSE Senior Vice President and Chief Executive Officer Dr. Alain E. Kaloyeros said: "New York State's continued rise as the preeminent global location for the world's leading nanotechnology companies is a tribute to the bold leadership, pioneering strategy and steadfast support of Speaker Silver and the New York State Assembly. The location of M+W Group's U.S. headquarters in the Capital Region will create and retain hundreds of high-paying, high-tech jobs, while also generating new opportunities to attract additional technology companies and investment to upstate New York. The impact will truly be felt by all New Yorkers through unparalleled world-class education and workforce training, and exciting career paths, reflecting the longstanding vision of the Speaker and the Assembly, who have championed New York's groundbreaking nanotechnology initiative as a vehicle to drive vital economic growth and an improved quality of life."
Rick Whitney, President and CEO of M+W Americas Inc., said, "M+W Group is delighted to establish its United States Headquarters in upstate New York, which we firmly regard as the global epicenter and worldwide capital for nanotechnology education, innovation and commercialization. The bold leadership and strong support of Speaker Silver and the Assembly were the deciding factor in the decision to locate our headquarters at the Watervliet Arsenal, and to expand our research and development capabilities at the UAlbany NanoCollege. As a leading global high-technology company that works everywhere in which major nanoelectronics manufacturing is located, we have found it is critical to have our home base where the action is - and the action is clearly in New York State."
Arsenal Business and Technology Partnership President Tony Gaetano said: "The Speaker's economic investments are the best stimulus package in the state. According to the Army, his investments in the Arsenal helped create $120 million in annual economic activity last year, supporting 500 jobs. The M+W Group has become one of our most important assets in attracting even more new jobs. Our goal is to make the site a jobs machine."
Assemblyman Jack McEneny (D-Albany) said: "The Capital Region has reaped considerable benefits from the presence of the nanotech research and development partnership between University at Albany and private firms. The area will continue to benefit from M+W's decision to locate its North American headquarters at the historic Watervliet Arsenal. The region is now an integral location for nanoscale engineering and a world class location that we hope will continue to attract further attention and investment from the private sector."
Assemblyman Bob Reilly (D-Colonie) said: "I'm very pleased that an international leader in nanotech facility engineering and construction has decided to locate a significant portion of its operation right here in the Capital Region. We are seeing the results of a decade of public-private partnership between CNSE and the private sector. M+W has chosen the Arsenal because the extent of nanoscale development being done in our area."
Assemblyman Tim Gordon (I/D-Bethlehem) said: "The investment into the nanoscale industry made over the past decade is now reaping very real benefits and creating jobs here in the Capital Region. As it has been said and is being demonstrated - if you want to make movies you go to Hollywood. If you want to lead nanoscale you come to New York's Tech Valley."