Special Olympics New York 40th Anniversary Event

Empire State Plaza, Well Of The Legislative Office Building, Albany, NY
Wednesday, March 17, 2010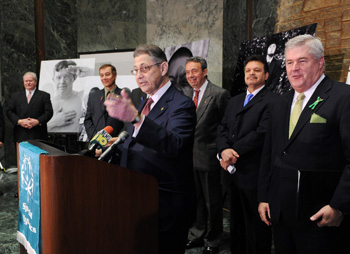 Assembly Speaker Sheldon Silver (at podium) congratulated Special Olympics New York at its 40th anniversary celebration, an event at the Capitol that received bipartisan support for the organization's exceptional work with young people. Silver praised their mission of teaching youth the lessons of athletic competition: hard work, being a good sport and team work. Also attending the event were: (from left) Special Olympics NY President Neal Johnson and Assemblyman Dennis Gabryszak, Assembly Majority Leader Ron Canestrari, Assemblyman Felix Ortiz and Assembly Minority Leader Brian Kolb.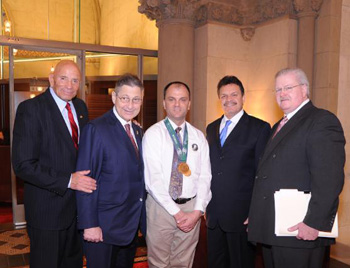 Speaker Silver (second from the left) also met with Special Olympics New York President Johnson (last on right) and Special Olympic Athlete Kevin Brown (center) to discuss the group's four decades of accomplishments. Silver commended the sports group's year-round commitment to training athletes for Special Olympics competitions. This year Utica will host the 2010 State Summer Games, from June 4-6. Assemblymen Harvey Weinsenberg (first from the left) and Felix Ortiz (fourth from the left) also joined the meeting.
Thank you, Minority Leader Kolb.
I am proud and delighted to join with my colleagues from the Assembly and the Senate in welcoming to the Empire State Plaza, Special Olympics New York President Neal Johnson, Kevin Brown, all of our visiting athletes, your families and your supporters.
We are thrilled that you are here with us today.
My congratulations to all of you on this, the 40th anniversary of Special Olympics New York. For four decades of inspiration and leadership and for making New York's Special Olympics program the pride of our nation, we thank you and salute you.
Now, let me ask a question. Do we have basketball players here today? Best athletes in the world, am I right?
I love basketball. Not only is it a good way to get in shape and to make new friends, it is an excellent teacher.
Playing basketball enabled me to build the self-confidence that I needed to become a leader. It taught me the importance of sportsmanship and the value of team work.
Playing basketball helped me to appreciate that becoming good at a sport - or at any endeavor - requires hard work and a commitment to always doing the best that one can.
This is why I admire our Olympians and why I respect the Special Olympics, because everyone who can experience the joy of athletics should have the opportunity and because learning and doing your best is how you build character, and that is the most important achievement of all.
To all of the coaches and to all of the volunteers who make Special Olympics New York the exceptional program that it is, we applaud you for your leadership and for your generous spirits.
Before I go, let me thank my colleague, Minority Leader Brian Kolb for hosting this wonderful and bipartisan event, and let me wish all of you a rewarding experience and great success when the Summer Games kick off in Utica this coming June.
Congratulations and best wishes to all.