West Point Day

State Capitol, Assembly Chamber, Albany, NY
Wednesday, April 28, 2010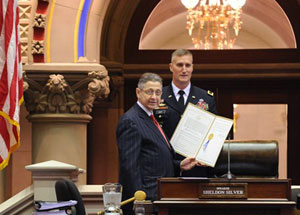 Assembly Speaker Sheldon Silver (left), as part the Assembly's annual tribute to the United States Military Academy (USMA) at West Point, New York, presents Brigadier General William E. Rapp with a resolution recognizing the academy's extraordinary men and women for their dedication and service to our nation and the defense of freedom throughout the world.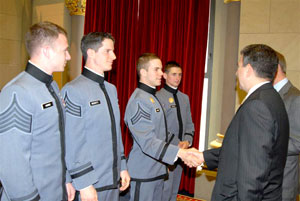 Assembly Veteran Affairs Committee Chair Bill Magnarelli meets with cadets who visited the Assembly chamber on West Point Day.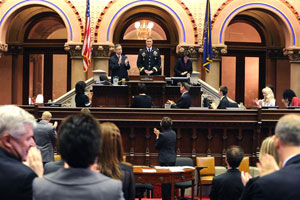 Speaker Sheldon Silver (left, on rostrum) leads the Assembly's applause honoring Brigadier General Rapp (right) and the visiting West Point cadets. In his remarks, Silver spoke of the pride felt by both he and his colleagues that the nation's premiere military academy is located in New York State's historic Hudson Valley.
Today is "West Point Day" in the New York State Assembly.
My colleagues, we are privileged to be hosting a contingent from our prestigious United States Military Academy.
Leading the contingent today is Brigadier General William Rapp, who will address this Chamber shortly, and who is representing Superintendent Franklin L. Hagenback.
Accompanying the Brigadier General are:
Colonel Mike Durham, Chaplain;
Command Sergeant Major Rodney D. Harris;
Cadet First Captain Tyler R. Gordy;
And his fellow cadets from across the State of New York.
Honored Guests … on behalf of Majority Leader Ron Canestrari; Minority Leader Brian Kolb;
Assembly Member Bill Magnarelli, the new Chair of the Committee on Veterans Affairs;
Assembly Member Nancy Calhoun, whose 96th Assembly District is home to West Point;
And all of the Members of this, the People's House of the New York State Legislature …
Let me say how honored we are to have you with us in the Chamber today.
We are proud that the Nation's premier military academy and one of America's finest engineering schools is located in New York State's historic Hudson Valley.
Since its establishment in 1802, the best and the brightest have traveled to West Point to be shaped into the leaders and the role models of tomorrow.
More than a training ground for Army officers, the rigorous academic program along with the character building required at West Point … is preparing cadets for the myriad challenges of this new millennium.
Of course, we are all familiar with the "The Point's" incredible history. Some of our Nation's finest leaders and legendary heroes have emerged from your hallowed halls.
It is a tradition that we hope will continue, because we need men and women with strong leadership skills … and we need all the heroes we can get … in this age of fear and uncertainty.
Cadets, you face unprecedented challenges as we begin the second decade of the 21st Century; not merely terrorism, but cyber terrorism as well.
As you complete your work at "The Point" and begin your service in our military, please know that I and my Assembly colleagues are profoundly grateful for your unflinching commitment to honor, duty and country.
To commemorate your visit to Albany today, we will take up a legislative resolution honoring the United States Military Academy at West Point.
Please accept our best wishes as well as the privileges of the House.
May G-d bless all of you and keep you safe …
And may G-d bless all of the men and women of our Armed Forces wherever they may be serving.