Albany On The Record

Empire State Plaza, Meeting Room 6, Albany, NY
Wednesday, May 5, 2010

[As Prepared for Delivery]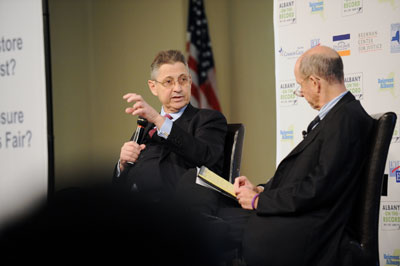 Assembly Speaker Sheldon Silver, with veteran Capitol press corps member and former Gannett News Service Bureau Chief Jay Gallager, participated in Albany on the Record, a public forum focused on transparency and accountability in state government. Silver answered questions about government policies and reform proposals from Gallagher, who hosted the event at the Empire State Plaza for its sponsors NYPIRG, the League of Women Voters, Citizens Union of New York City and other good government advocacy organizations.
Good morning.
Let me begin by saying that I have the utmost respect for New Yorkers who take an interest in the performance of our government and are earnestly committed to improving it.
I know New Yorkers are frustrated with their government, with the economy, with politics, with the way things are today.
So am I.
In 1986, I introduced the state's first campaign finance law in my capacity at that time, as Chair of the Assembly Committee on Election Law. Now, 24 years later, it is still a one-house bill and unregulated money continues to pour into politics.
So, yes, I understand the frustration. My Assembly colleagues are frustrated as well. Nevertheless, we are working every day - here in Albany and in your Assembly Districts - to make government more open, more accountable, more efficient and more effective.
We acknowledge that we do not have all of the answers, but we do know that "meaningful dialogue" is the surest avenue to making things better.
Overlooked is the fact that the Assembly Majority has a distinct history, a distinct record of moving our Democracy toward the ideal.
Hundreds of public hearings, thousands of hours of testimony, the ongoing committee process, the floor debates, these are the building blocks of our record. Our history is one of working with you, with the good government groups, listening to your ideas, and striving to modernize and reform a state that is as old as the nation itself.
Let me briefly outline some of the reforms we have implemented working in partnership with you.
In 2005 and 2007, the Assembly Majority spearheaded historic, bi-partisan rules reform measures intended to promote a more open, accountable and effective government.
We strengthened the committee system, did away with empty-seat voting, enhanced member participation, streamlined legislative procedures, expanded the amount of time for floor debate, and required regular ethics training for all Assembly Members and Assembly staff.
Also in 2005, we led the successful Legislative effort that significantly cleared up and tightened the state's laws pertaining to general lobbying as well as procurement lobbying, and we increased the penalties on those who violate these laws.
That year, we also succeeded in gaining enactment of numerous improvements to the Freedom of Information Act and to the Open Meetings Law.
In 2007, we made significant and substantive improvements to the state's ethics laws by, among other things, banning gifts of more than a nominal value to public officials from lobbyists and toughening penalties.
As part of the Budget Reforms of 2007, we provided greater transparency in the allocation of discretionary spending by prohibiting the use of lump sum appropriations by the Legislature.
And this year, as part of the Assembly Budget Resolution we championed GAAP financing reform, which - over a period of five years - will eliminate the state's structural deficit.
In addition, the Assembly continues to increase transparency by posting all member items on our website, including the name of those organizations that receive funding, the amounts they are receiving, and the purposes being supported by the funding.
Last year, we achieved a long-sought-after goal - the Public Authority Reform Act of 2009 - which among other things, provides for an Independent Authority Budget Office, expanded reporting requirements, and greater oversight of no-bid contracting, debt issuance and lobbying.
Many of you helped us build this record of accomplishment, but I assure you that we understand clearly that there is more to do. That said, let me mention some of our recent reform proposals.
All of us recognize that the ethics oversight structure created by the Spitzer Administration is not working as intended.
Although we had legitimate disagreements on how to fix the problem, we worked together and the Assembly unanimously passed legislation to restore the former Lobbying Commission and to create a new independent legislative ethics body.
This legislation, sponsored by Minority Leader Kolb and myself, also required expanded, and more public, financial disclosure. It became that platform from which the Assembly and Senate launched negotiations that brought us to a legislative agreement on significant ethics and campaign finance reform, which passed both houses earlier in this session.
This bill, which enjoyed the support of NYPIRG, the League of Women Voters, Citizens Union, and David Grandeau, included necessary campaign finance reform which would have improved State Board of Elections enforcement, increased penalties for failure to file required statements, and provided more disclosure and transparency regarding election expenditures.
Unfortunately, as you know, this important reform bill was vetoed by the Governor.
On the issue of election law reform, we all agree that action is needed in the area of independent expenditures. Our proposal defines the term and requires those candidates who benefit from independent expenditures to identify the source of the political communication, and we penalize violators up to a thousand dollars or the cost of the independent expenditure, whichever is greater.
We mandate that independent expenditures on communications opposing or supporting a candidate or a ballot initiative, worth in excess of a thousand dollars, be subject to the same filing requirements as are currently in place for candidates and political committees.
Our proposal prohibits a person, campaign committee or political party from falsely identifying the source of a political communication and requires itemization of candidate and political committee credit card payments and other similar payments.
We also require an additional campaign finance filing for candidates and political committees during the legislative session.
The Citizens United case bears out the need for these reforms and we are pleased that the Federal Government is modeling its legislation after our independent expenditure proposal.
We all recognize that Public Campaign Financing is a key to reforms that all of us desire.
To that end, I am sponsoring legislation which will create such a system and would apply to the Governor, the Lieutenant Governor, the Attorney General, the State Comptroller, Members of the Legislature, At-Large Delegates and District Delegates to a constitutional convention.
The contribution limit for participants in public financing of campaigns is two thousand dollars. Eligible contributions are kept low - up to $250 - and are matched four for one when a non-participating opponent exceeds the applicable expenditure limit.
Leveling this playing field remains a strong commitment in our House.
I am also pleased that the Assembly Majority's long standing commitment to create a comprehensive state public affairs television channel - one similar to C-SPAN - is becoming a reality. Surely, there is no better way to make government more transparent that to bring its proceedings directly to the People.
The Legislature's Joint Advisory Board on the Broadcasting of State Government Proceedings - Co-Chaired by Assembly Majority Leader Ron Canestrari and Senator Jose Serrano - has been working with cable television providers to transform this channel into an independently run, New York State public affairs network.
This new channel will broadcast proceedings from all branches of state government as well as programming related to public policy in the State of New York. We look forward to the creation of this important resource for all New Yorkers in the very near future.
Regarding our accomplishments and our proposals, let me reiterate that we are always open to hearing your ideas on how to improve government.
We recognize, as you do, that in a Democracy, the work is never done, and we are hoping that you will continue to work with us, as you did with the ethics reform.
One issue that requires additional work and significant dialogue is the issue of "redistricting."
Clearly, New York State is unique.
We have held public hearings on redistricting. We intend to hold many more, because we believe that there are legitimate concerns that must be addressed before final agreement can be reached on a final plan.
Right at the top, we support The Voting Rights Act.
We also have concerns regarding local governments.
Our State Constitution protects "towns." They cannot be divided. We believe that other existing governmental entities, such as counties, villages and school districts, must be taken into account.
There is also the issue of "communities of interest." Be they religious or ethnic or otherwise, consideration must be given as to whether these communities can or should be politically divided.
It follows then, that consideration must also be given to the existing relationship between legislators and the constituencies they represent.
We must continue to engage each other in meaningful dialogue and work together to address all of the constitutional and statutory issues before we commit to a redistricting plan.
Before I take a few questions, let me address "the elephant in the room." Yes, the budget is late. Why? Certainly, the key reason is this unprecedented and uncertain fiscal crisis facing our state and our nation.
There are other issues as well. We believe that education is such a priority, that we cannot cut it to the extent the Governor is proposing.
Our colleagues in the Senate want property tax relief. We all want that, but how do we pay for it?
We support the budget reforms offered by Lieutenant Governor Ravitch, particularly GAAP budgeting but clearly, everyone has to agree.
We are pleased that the Governor has provided us with a balanced Executive Budget.
Now, we need a real financial plan in order to convene "conference committees.
All of that said, let me add that in my experience, the overwhelming majority of the men and women with whom I serve and have served in the Assembly are caring, hardworking, law abiding public servants who understand what a privilege it is to be elected to office.
Yes, there have been disagreements between our respective organizations, but the Assembly has always listened and been open to working with the good government groups to make things better.
We are a body of leaders and I am proud to represent the People's House as Speaker.
Now, I will take a few questions.