The Downtown-Lower Manhattan Association Breakfast

Embassy Suites New York, 102 North End Ave., Manhattan
Friday, May 14, 2010 [8:30 a.m.]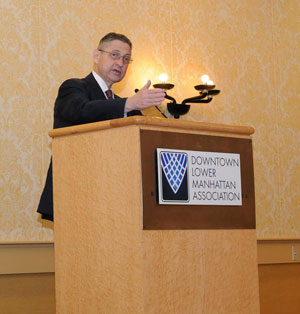 Speaker Silver was the featured guest at the Downtown Lower Manhattan Association's May 14th breakfast. Silver noted progress made at the World Trade Center site during the past year, and reminded the audience we are not building for today, but building for the economy that we want years down the road.
Thank you, Liz [President Berger], for those kind words and thank you, ladies and gentlemen, for your gracious welcome.
As always, it is a pleasure to address the Downtown Lower Manhattan Association breakfast.
Elizabeth Berger. Robert Douglass. Bill Rudin. Ladies and Gentlemen.
Before I get deliver my remarks and take a few questions, let me commend a terrific leader, my friend and my constituent Liz Berger, whose appointment as DLMA President is certainly among the smarter decisions that Bill Rudin, Bob Douglass and this Association has ever made.
And speaking of the importance of strong and capable leadership, Bob [Douglass], let me just add that we could certainly use your wisdom and skill in Albany right now.
To my friend, Bill Rudin - the Chair of the Association for a Better New York - I know I speak for everyone here - and for all New Yorkers - when I say how much we appreciate all that you and the Rudin Family have done and continue to do in support of our great city.
My thanks as well to the many partners and friends who are part of this historic rebuilding effort; leaders who do not - often enough - receive the recognition they deserve:
My dear friend, our former City Comptroller, and one of New York's finest public leaders, Battery Park City Authority Chairman Bill Thompson;
His distinguished partner, Battery Park City Authority President, Jim Cavanaugh;
My friend, Julie Menin and the membership of Community Board One;
Chancellor Matthew Goldstein, Jay Hershenson and our great City University;
Chairman Avi Schick, President David Emil and the Lower Manhattan Development Corporation;
Let me also acknowledge Madelyn Wils of the New York City Economic Development Corporation and Carl Weisbrod of Trinity Real Estate, both of whom worked closely with my office and were outstanding during those hard weeks and months after September 11th;
Bob Townley and his excellent team from the Manhattan Youth Community Center;
And let me take this opportunity to personally thank all of the parents and concerned citizens who take the time to participate in my Fiterman Hall, Deutsche Bank, School Overcrowding and West Street Safety sub-committees.
The contributions all of you have made and are making here in Lower Manhattan are invaluable as we strive to improve Lower Manhattan's quality of life and guarantee a brighter and more prosperous future for our community.
At previous events, I have told audiences that my role is that of the critic. In that capacity, I am compelled to repeat a few of the harsh words I said at last year's breakfast.
I am fed up with the stalling. I am weary of the recalcitrance and tired of the absence of a clear and steady focus from leadership at the highest levels of our government.
We have a gaping hole that still has not been addressed. That we are where we are after this much time is an embarrassment. We cannot allow the current impasse to go on.
And that's all I am going to say about the state budget process for the time being.
Despite the inaction in Albany, there has been remarkable progress in Lower Manhattan since my appearance here on May 8th of last year. At that time, I was, indeed, fed up. All of us were.
Fiterman Hall was still standing. The 130 Liberty Street project continued to experience an endless series of stops and starts. Work was proceeding at One World Trade, but little else.
At that time, I publicly offered to bring the stakeholders together in order to facilitate an agreement that would move the Lower Manhattan rebuilding process forward. The Mayor echoed my call and together, we brought the stakeholders to the table and opened up the dialogue.
Though progress remained elusive for some time, a tentative agreement was reached between the Port Authority and Silverstein Properties on March 25th of this year.
The agreement, which parallels the compromise the Mayor and I had recommended, gives Lower Manhattan with the single most important tool we needed: PARTNERSHIP.
Thanks to this partnership …
The original Fiterman Hall is down and ground has been broken for a new and improved facility complete with state-of-the-art classrooms and a ground-floor art gallery;
The Deutsche Bank building - another painful reminder of the terrorist attacks - is on schedule for full deconstruction by the end of this year;
The Memorial is on track to be open come the 10th anniversary, and on that note, I applaud the efforts of Joe Daniels;
The MTA's Fulton Street Transit project is well under way and all contracts are let or are out;
Steel for the Port Authority's One World Trade Center is expected to reach 50 stories by the end of September, and the Authority has announced that construction of a 180,000-square-foot performing arts space is scheduled to commence in 2014.
Thanks to the leadership of Larry Silverstein and Janno Lieber, Seven World Trade is now 85-percent leased to a diverse group of companies, including many which moved Downtown from outside of the City.
The Four World Trade project is going strong. I commend Silverstein Properties for moving forward - in the spirit of good faith - with work on Towers Two and Three.
Soon, that long anticipated day will arrive when every project within the World Trade Center site will be in construction at the same time.
All of this progress is testament to the perseverance and willing to compromise of the divergent interests - the Governor and Chris Ward, Larry Silverstein and Janno Lieber - and it is testament to the commitment and the dedication of Mayor Bloomberg and Deputy Mayor Robert Lieber, who are ensuring that the agreement will not fall short of our commitment to fully rebuild the World Trade Center site.
In the months leading up to this new partnership, much had been written about "Lower Manhattan's woes" and about the supposed glut of office space that will exist when the World Trade Center is fully rebuilt.
Rumors of Downtown's woes are indeed, WRONG. So, let me repeat a point that I made at last year's DLMA breakfast.
We are not building for today. We are building for the economy that we want years down the road. We are building for the green, high-tech sector that is emerging.
This is not merely a local issue. A stronger Downtown benefits the entire City.
Our economy is more dependent on "high-value-added," white-collar jobs.
To compete technologically and in terms of productivity with world commercial centers and to continue attracting the best and the brightest, modern, green office space is a must.
We are not doing anywhere near enough to construct the quantity or the quality of the space New York will need to attract and retain major employers in the decades to come.
I am sure you know the statistics. From 1969 to 1989, Manhattan added almost 100 million square feet of office space. Even with the economic downturn of the 1990s, all of that space was fully absorbed. Since 1990, we have added only 24 million square feet, a dramatic slowdown.
If we exclude the World Trade Center, new construction currently under way will add only 1.5 million square feet of "spec" office space. That won't even replace the old space that is currently being demolished or converted to housing and other uses.
Building the World Trade Center project as planned will help ensure that New York has the modern, green, first-class office space necessary to compete in the 21st Century.
Even though we are not building for today, the world is already beginning to take notice.
Just this morning, we read that Conde Nast is considering taking a million square feet of office space in One World Trade. I am sure, this is the first of many similar discussions to come as we move forward.
And progress is not limited to the World Trade Center.
The partnerships we forged more than eight years ago are continuing to pay off.
Today, there are more than 60,000 people living south of Chambers Street - double the number who lived there before September 11th.
The construction being endured by Lower Manhattan residents - which is so admirably and expertly being managed by Executive Director Bob Harvey and the Lower Manhattan Construction Command Center - will soon bring about new schools, parks and roadways to serve our community.
I am most proud of our determined efforts to bring two new elementary schools to Lower Manhattan. PS 276 is progressing nicely in southern Battery Park City and will open in September of this year. The Spruce Street School, which is being constructed within the Beekman Tower, is scheduled to open in September 2011.
I am pleased to tell you that at my request, the LMDC has allocated $1.2 million for pedestrian safety managers who will be working at intersections along West Street that have been of particular concern to local residents and businesses.
I assure you that I will continue to press the City for a pedestrian bridge at West Thames Street where hundreds of children will be walking to and from school come this September.
Several of our new and improved parks are ready to open this summer. One of them, Imagination Park, is an innovative playground that will encourage creativity and serve as a unique Downtown destination.
Significant progress has also been made on several more parks, including a playground designed by noted architect, Frank Gehry.
While not as much fun as a playground - but of vital importance to our community - Downtown Hospital has opened its first MRI suite. This new facility, as well as a new Health and Wellness Center which is under construction, were funded, at my request, by a grant from the LMDC.
To ensure that we continue to attract and retain small businesses and retail, I authored - and Senator Daniel Squadron sponsored in the Senate - legislation extending the Lower Manhattan Commercial Incentives Program, which the Governor signed into law on March 29th.
As you know, the original incentives brought the Downtown business district back to life. The new legislation extends for four years the expiration date of the New York City property tax abatement and commercial rent reduction for eligible businesses.
Together with the quality of life and marketing programs provided by the Alliance for Downtown New York, these incentives are advancing the transformation of Lower Manhattan into a thriving, 24/7 mixed-use community with services and amenities for local residents, commuters and visitors alike.
That is the positive news.
Just three days ago, at the Police Officers Memorial Ceremony in Albany, the names of eleven NYPD officers were added to the Memorial wall. Each of those eleven officers had succumbed to cancers and other illnesses related to their exposure to September 11th toxins.
I know that our Congressional Delegation is doing all that they can, but how many more New Yorkers - and especially our first responders - must suffer and waste away before the Federal Government honors its moral obligation to the heroes of September 11th?
The fact that federal funding for 9/11 treatment programs is running out or still being worked out is unconscionable and the frustration and outright anger is only exacerbated by the Administration's decision to slash critical anti-terror funds to New York City.
New Yorkers are still reeling from the attempted terrorist bombing in Times Square and the clear message it sent is that we remain a top target of violent extremists.
I ask you to join me in calling on the White House to reverse this decision and to restore fully the funding that this city so desperately needs to keep its citizens safe.
And then, as I mentioned earlier, there is the budget.
I and my Assembly colleagues are ready to pass a budget - and have been ready to act - for some time now.
We believe that the Executive Budget proposed by the Governor is unduly harsh to our school children and to the City of New York.
We passed a budget resolution that makes significant cuts and partial restorations, recognizes that we do have a $9.2 billion budget deficit, and adopts the reforms offered by Lieutenant Governor Dick Ravitch.
By proposing a budget that ties appropriations to language, the Governor has effectively precluded the Legislature from engaging in any meaningful dialogue on his budget.
Some have suggested that given that his remaining time in office is running out, the Governor is unwilling to do a budget now for fear that he will become irrelevant in the public arena.
I believe that as long as he or she has the bully pulpit, a governor can be as relevant as they choose to be.
On the other side of the Capitol, the Republican Minority in the Upper House will vote "no" on anything and everything. They clamor for conference committees in the hope that their political theatrics will be covered by the media.
So, we need all 32 Democratic votes in the Senate to achieve at least a two-way agreement. When you put "32" to the test of unanimity in an election year, you empower each one individually to be a "game-changer," and therein lies the rub.
I believe they call this "the perfect storm." New Yorkers are frustrated. So am I. So is my Conference. That said, each time I have addressed this breakfast I have offered my ideas for how to advance the cause of progress. This morning, I'm open to your suggestions. \