FOR IMMEDIATE RELEASE:
May 18, 2010

Heroic Times Square Vendors Honored With Assembly Resolutions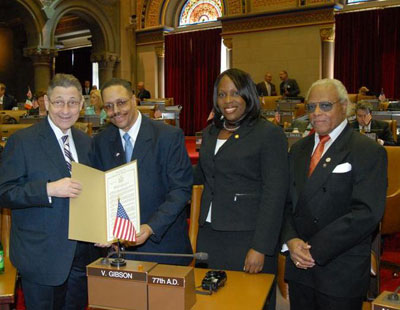 Assembly Speaker Sheldon Silver (far left) presents Times Square vendor Lance Orton Sr. with a proclamation honoring his heroic efforts in alerting law enforcement to the presence of a suspicious SUV on May 1, 2010. Silver and Orton are joined by Assemblywoman Vanessa L. Gibson and Orton's father, Horace Orton.
Assembly Speaker Sheldon Silver today announced that the Assembly passed resolutions honoring Duane Jackson and Lance Orton, the heroic Times Square vendors who alerted law enforcement to the presence of a suspicious SUV on May 1, 2010 (
K.1358
and
K.1359
). The vehicle was later found to contain an explosive device.
"On behalf of all my colleagues in the Assembly, I commend Lance Orton and Duane Jackson for their heroism," said Silver (D-Manhattan). "If it were not for their efforts, police may not have been alerted to the situation, and the result could have been absolutely devastating. I am even more proud to be a New Yorker when I hear stories like this."
"It is my privilege to present this resolution honoring Duane Jackson, who notified police of the smoking SUV in Times Square," said Assemblywoman Sandy Galef (D-Ossining). "The quick-thinking and bravery on the part of this local hero resulted in swift action by law enforcement and helped to save countless lives. I am extremely proud to have Jackson as one of my constituents. His selfless act has undoubtedly helped to make New York a safer place."
"I am so proud that we have people like Lance Orton in the Bronx and in the 77th Assembly District," said Assemblywoman Vanessa L. Gibson (D-Bronx). "He's a genuine American hero who saved potentially thousands of people with his vigilant actions on May 1 and served our nation in uniform during the Vietnam War."
Duane Jackson is a Vietnam War veteran and resident of Westchester. He is active in his community as an Associate member of the National Organization of Black Law Enforcement Executives and President of the Vietnam Veterans of America Manhattan Chapter.
A Bronx native and Vietnam War veteran, Lance Orton is a well-regarded member of the community.