FOR IMMEDIATE RELEASE:
June 2, 2010

Speaker's Notes - Public Leaders Meeting

Thank you, Governor. Let's get right to the heart of the matter.
Last week, in an effort to move the process forward, I suggested agreeing to an allocation of cuts to the Budget Conference Subcommittees. Once achieved, it would provide us with an overall financial structure, which in turn, would allow us to progress to final passage of the Budget.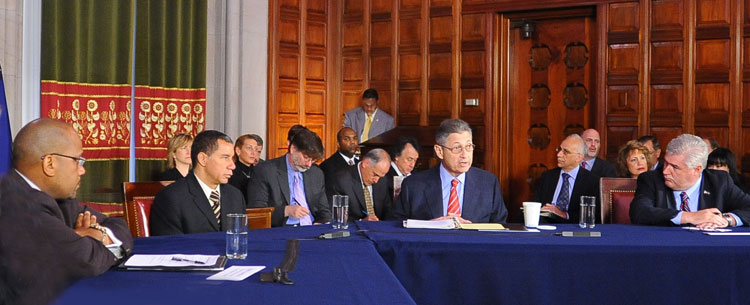 We made progress. Governor, your staff put forward a "base" allocation that reflects agreements among the Executive Budget, the Senate resolution and the Assembly budget bills to cut $6.5 billion. Your staff then suggested that the remaining $2.5 billion be allocated to conference sub-committees based on your budget.
I have two problems. First, you have made it very clear that we need more cuts to address the rejection of your revenue actions, but - at this time - you also will not consider other financing mechanisms. Second, we need compromise allocations that meet your overall spending reductions.
The major difference between our respective plans, Governor, is and always has been EDUCATION. We do not agree with your decision to cut schools by $1.4 billion.
We have agreed to significant cuts. We have agreed to join you in postponing our CFE commitment by a number of years. Per your conditions, last Friday we were able to successfully complete the entire legislative "Race to the Top" application. Hopefully, these sweeping education reforms will benefit our children and make this state eligible for much needed Federal Funds.
We cannot in good conscience, cut $1.4 billion from public education.
We understand - we do - the depth and difficulty of this economic crisis and we appreciate that such a cut would never be considered were it not for this crisis but, there has to be a better way to proceed than a cut of that magnitude which will shortchange our children of their education.
That said, our Conference is meeting this afternoon to "re-review" hundreds of millions of dollars in cuts that we have consistently rejected in the past in an effort to reach the $2.5 billion goal without so seriously cutting our public schools. We will then come back to you with alternative cuts and alternative allocations that hopefully will meet the goal and move us to the final, enacted state budget.