FOR IMMEDIATE RELEASE:
August 19, 2010

Silver, Destito Welcome NCCIT To Central New York

Inter-regional Nanotechnology Partnership Becomes Reality as UAlbany and SUNYIT Spur High-tech Economic Opportunity
Assembly Speaker Sheldon Silver and Governmental Operations Committee Chair RoAnn Destito today welcomed nfrastructure Technologies Center of Competency in Information Technologies (NCCIT) to the Utica/Rome region. The initiative was created in response to the rapid growth in global demand for informational technology (IT) advancements, bringing standardized and affordable IT infrastructure to public and private sectors and growing high-technology jobs in New York.
"Today begins a whole new era of a job-creating high-tech economy in the Utica/Rome region as we welcome nfrastructure Technologies Center of Competency in Information Technologies to the SUNYIT campus," said Silver (D-Manhattan). "Bridging the already successful nanotechnology initiatives at UAlbany with those at SUNYIT will allow New York to compete in the global marketplace with an inter-regional partnership between Tech Valley and the Mohawk Valley. Years ago, RoAnn and I - along with our Assembly colleagues - recognized that our colleges and universities were the foundation upon which the 21st-century New York economy could be built. Today we see that coming to fruition with NCCIT making its home here in Central New York and creating good jobs, workforce training and an IT-supplier network."
"The jobs that are being created through this project will be located at SUNYIT, and will be high-paying engineering, computer software, and data management positions," said Destito (D/WF-Rome). "This project will leverage public and private investment to boost our local economy, benefit SUNYIT students and significantly improve our efforts to attract other good paying jobs to the Mohawk Valley. It will continue our efforts to make SUNYIT one of the state's premier technology colleges, and this initiative will strengthen the existing partnership between SUNYIT and the SUNY College of Nanoscale Science and Engineering in Albany."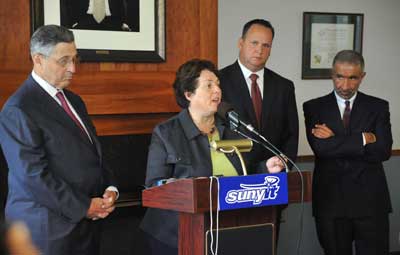 "nfrastructure Technologies is thrilled to establish its state-of-the-art research, development and workforce training center, along with its Western New York corporate offices, on the SUNYIT campus through this partnership with the New York State Assembly, SUNYIT and CNSE," said nfrastructure Technologies Chairman, President and Chief Executive Officer Daniel T. Pickett III. "The unparalleled leadership and critical investment of Speaker Silver, Assemblywoman Destito and the Assembly were the essential ingredients in nfrastructure's decision to move forward with this initiative, which will play a pivotal role in our company's future, helping us to build a first-rate IT workforce in the Mohawk Valley that will enable new IT solutions and technologies that are critical to compete in the global marketplace."
"Under the watchful eye of Speaker Silver and Assemblywoman Destito, the New York State Assembly continues its extraordinary leadership and innovative roadmap for building a world-class nanotechnology initiative, including critical support for pioneering educational and economic-growth opportunities across New York," said CNSE Senior Vice President and Chief Executive Officer Dr. Alain E. Kaloyeros. "The establishment of this next-generation research, education and workforce training center by nfrastructure Technologies truly embodies the groundbreaking vision of the Speaker and the Assembly in creating unique public-private partnerships that provide New Yorkers and their communities with the 21st-century tools necessary to compete and succeed in the global innovation economy. The UAlbany NanoCollege looks forward to working with the Assembly, SUNYIT and nfrastructure Technologies to ensure that this collaboration is a resounding success."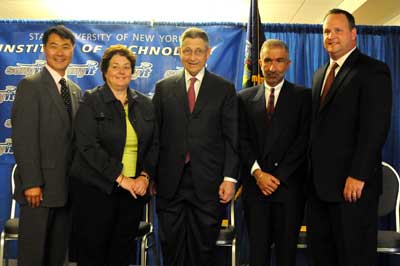 "We are delighted to welcome nfrastructure Technologies to the SUNYIT campus as part of the nfrastructure Technologies Center of Competency in Information Technologies," said SUNYIT President Dr. Bjong Wolf Yeigh. "The attraction of the first private industry partner to SUNYIT is a tribute to the vision and leadership of Speaker Silver and Assemblywoman Destito and a testament to the growing relationship between CNSE and SUNYIT, which is translating into unmatched education for students and new nanotechnology economic development opportunities for the Utica-Rome region."
nfrastructure Technologies is the first company to sign on to the Assembly's inter-regional nanotechnology-partnership initiative. The company will occupy a newly created space at SUNYIT; planning of which is underway. Groundbreaking is expected to be announced soon.