FOR IMMEDIATE RELEASE:
August 24, 2010

Statement from Speaker Sheldon Silver
on Race to the Top Award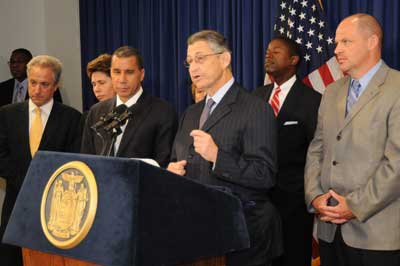 Assembly Speaker Sheldon Silver and Governor David Paterson announce the award of nearly $700 million in Race to the Top education funding for New York schools.They were joined by (from left) State Education Commissioner David Steiner, Regents Chancellor Merryl Tisch, Senate President Malcolm A. Smith and President of the United Federation of Teachers Michael Mulgrew.
On behalf of the New York State Assembly I thank President Obama and Secretary Duncan for acknowledging New York's commitment to our state's 3 million public school children.
This award acknowledges New York's continuing and ardent effort to close the achievement gap, to improve student performance, and to ensure that our students - wherever they live in this state - are well prepared to compete for the jobs and opportunities of the 21st Century.
I thank Assembly Education Committee Chair Catherine Nolan, all of our Assembly colleagues, the Governor, the Senate, Mayor Bloomberg and United Federation of Teachers President Michael Mulgrew for their concerted efforts which made possible the sweeping education reforms that were enacted earlier in this session.
I applaud Regents Chancellor Merryl Tisch, State Education Commissioner David Steiner and Senior Deputy Commissioner John King for crafting a Race to the Top application that was worthy of this award.
It is important to acknowledge that Merryl Tisch, Joel Klein, Michael Mulgrew, David Steiner and John King went to Washington to advocate for our application. Their efforts have paid off for New York and they deserve our gratitude.
What makes this achievement particularly satisfying is that we did what many said could not and would not be accomplished. By reaching a consensus we thoughtfully addressed Washington's concerns and the demands of parents who entrust their children to our public schools. Not only did we win the award, but we also established a working model for guiding and implementing education reform in our state.
The Assembly has always maintained that "reform plus resources equals results" and this funding, which comes at a critical time, will provide our state with the resources needed to further drive education reform and put our children in a position to win the race to the top.
We look forward to continuing this partnership to deliver the results our children deserve.