2011 Family Planning Advocates Day of Action

Well of the Legislative Office Building, Albany, NY
Monday, January 10, 2011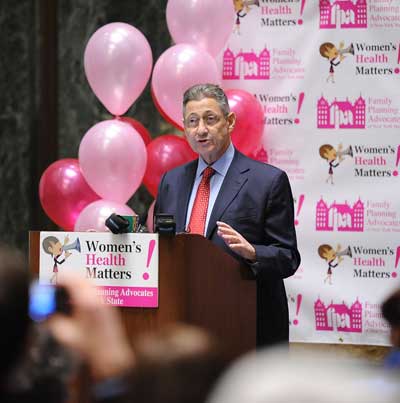 Assembly Speaker Sheldon Silver addressed representatives of Family Planning Advocates of New York State, expressing the Assembly's respect and commitment to the availability of reproductive health services in our communities.
Thank you, Tracey (CEO Brooks), for your generous introduction and thank you, Family Planning Advocates of New York State, for your warm welcome.
My thanks as well for taking the time to come here and to speak for all of the women, young adults and families who are unable to travel to Albany to speak up for family planning services.
May I say that it is good to see your Chief Executive Officer again. As I like to point out on your annual day of action, Tracey trained in the Assembly, so she has our trust and we know what a wise and capable leader you have at the helm of FPA. Tracey, we are delighted to be working with you and your team again this year.
By now, I am sure you recognize that FPA has many longtime friends and proven champions in the Assembly Majority.
That is why you see me and so many of my colleagues at this event each year, because we appreciate just how important reproductive health services are to our communities.
We have a profound respect for you and for all of the doctors, nurses and health-care professionals who take on the risk that comes with protecting and ensuring reproductive freedoms.
Certainly, I and my Assembly Majority colleagues applaud Governor Cuomo for making clear during his State of the State Address, his intention to vigorously defend a woman's right to choose.
As you know, we have Reproductive Health Act legislation sponsored by my colleague, Assembly Member Deborah Glick. We will work with the Governor and with our counterparts in the Senate to pass and to enact the Reproductive Health Act in this legislative session.
Regarding the state budget, I hate to sound like a broken record but the State of New York is still struggling to overcome the impact of the recession that began in 2007.
The Governor told New Yorkers - and we concur - that the state must close a $10 billion gap in our budget. This will require that difficult and painful decisions be made once again.
Given what we know about federal health care reform, the challenge before us now is to work together and to assess how to target these cuts so as to avoid reductions that will hinder clinic operations, and to mitigate their impact on essential programs and services that families throughout our state depend on.
As we work together to address our fiscal challenges, let me assure you that the Assembly Majority - with the leadership of our Health Committee Chair, Assemblyman Dick Gottfried - will once again take up and pass The Healthy Teens Act as well as The Unintended Pregnancy Prevention Act.
We have a tough road ahead of us, but we have a solid and longstanding partnership, and we will get through this financial crisis together.
As Tracey can tell you, my door - and the doors of my Assembly Majority colleagues - are always open to you and to all of the members of the FPA.
Please make the most of your time in Albany and good luck on this, your "Day of Action."
Thank you.