FOR IMMEDIATE RELEASE:
April 11, 2011

Assembly Passes Legislation to Extend
and Strengthen Rent Regulations

Measure helps protect New York's working families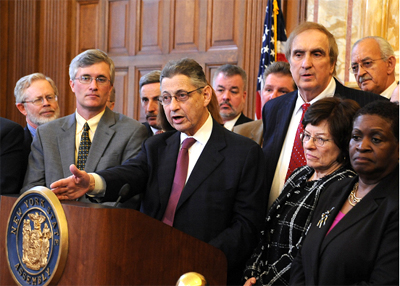 Speaker Silver (at podium) joined Housing Committee Chair Vito Lopez (behind Silver's left shoulder) and other Members of the Assembly Majority for a news conference to announce the Assembly's expected passage of rent regulations legislation. Silver emphasized to the Capitol press corps the Assembly's commitment to ensuring that working families, children and seniors can afford to remain in their homes.
(From left, first row) Assembly members Richard Gottfried, Brian Kavanagh, Speaker Silver and Assembly women Rhoda Jacobs and Annette Robinson. (From Left, second row) David Weprin, Daniel O'Donnell, Michael DenDekker, and Herman D. Farrell, Jr.
Assembly Speaker Sheldon Silver and Housing Committee Chair Vito Lopez announced the passage of legislation today that would extend and strengthen New York City's rent regulation laws. The measure (
A.2674A
/Lopez) includes provisions that will protect millions of working New Yorkers, extend rent-stabilization laws set to expire June 15, and close loopholes that allow for the loss of thousands of affordable apartments every year.
"Every year more than 10,000 rent-regulated apartments are lost because of loopholes in the rent laws," said Silver (D-Manhattan). "By ending vacancy decontrol, reducing rent increases after a landlord makes capitol and cutting the increases allowed after a vacancy, this legislation will help keep middle-class families from being priced out of their homes and communities. The Assembly Majority remains committed to fighting for the rights of the tenants in our city, and we urge the Senate to quickly act on this legislation."
"As we face a housing crisis, we must preserve our limited affordable housing stock and make sure our working families can afford to live in New York City," said Lopez (D-Brooklyn). "This legislation will help stabilize our working class neighborhoods when families are bearing the brunt of these uncertain economic times."
The bill would:
Repeal vacancy decontrol, which permits landlords to remove apartments from regulation by charging rents at or above $2,000 a month;
Reduce allowable rent increases after a landlord makes individual apartment improvements from 1/40th to 1/60th the cost of the improvement;
Cap the amount that can be collected for a major capital improvement to the actual cost of the improvement;
Bring certain units that were deregulated due to vacancy decontrol on or after January 1, 2007, again under the protection of rent regulation;
Cut in half the percentage increase by which a landlord can raise rents after a vacancy;
Increase the high income and high rent deregulation thresholds to $300,000 and $3,000 respectively; and
Permit New York City to strengthen rent protections beyond what the state allows.
Under current law, over 2.5 million tenants are protected by rent-regulation laws in New York State. The rent stabilization system began in 1969, when rents were sharply increasing in many post-war buildings, and generally includes apartments in buildings with six or more units constructed between February 1, 1947 and January 1, 1974.
"Throughout New York City, we are seeing neighborhoods decimated by speculative investors who come in and buy up affordable housing, and use loopholes to raise the rent above the threshold for rent regulation," said Maggie Russell-Ciardi, executive director of New York State Tenants and Neighbors Coalition. "This kind of systematic displacement of low and moderate income people from their communities cannot continue."
"Every night 37,000 New York City residents are in the public shelter system, at great public expense," said David Jones, President and Chief Executive Officer of the Community Service Society of New York. "Without the renewal and strengthening of these laws, that number will grow exponentially."