DC-37 Lobby Day

Empire State Plaza, Convention Center, Albany, NY
Tuesday, May 3, 2011 [11:30 AM]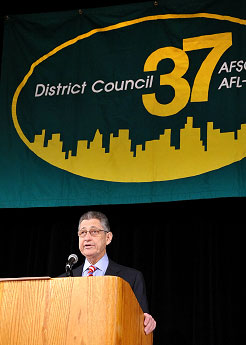 Assembly Speaker Sheldon Silver addressed DC37's annual Lobby Day in Albany where he commended the municipal union's members for their hard work and shared the Assembly's concerns about the challenges facing the state's working families. The Speaker discussed the Assembly's unwavering commitment to continuing the state's rent control laws and closing loopholes in vacancy decontrol in order to ensure the availability of affordable housing for New Yorkers.
Thank you, Lenny [Allen], for your kind words and to the members of DC 37 - my hometown union - I thank you for your warm welcome.
Speaking on behalf of the Assembly Majority;
The outstanding Chair of our Committee on Governmental Employees, Assemblyman Peter Abbate, who you have heard from;
And all of the members of our New York City Assembly Delegation;
Let me say how delighted we are to have you here with us in Albany today.
As always, we look forward to working with you and with your leadership team to ensure that the hardworking members of DC 37 have all of the rights, the benefits and the appreciation that you have earned and that you deserve.
Speaking of leadership, let me ask you a question. IS THERE A BETTER LABOR LEADER IN THE CITY OF NEW YORK THAN LILLIAN ROBERTS?
In Lillian Roberts, Wanda Williams, Lenny Allen, and Sue Graham, DC 37 has a tough and outstanding leadership team, and I hope you appreciate them as much as we do.
My friends, there is only one remedy to the challenges facing our working families: unity.
As you know, in less than 45 days, laws that keep housing affordable for more than one million New Yorkers are set to expire. On top of that, through loopholes such as vacancy decontrol, landlords are permanently removing apartments from rent regulation and this is making our city more and more unaffordable for working New Yorkers.
Did you know that at least ten thousand rent-stabilized apartments are lost in the city each year and that number is rising. It's true.
In 2009 alone, landlords removed 13,500 apartments from rent protection and this is what they voluntarily reported.
When working families who pay their taxes, who nurture and maintain our great neighborhoods are squeezed out of their communities, what happens?
Neighborhoods fall apart.
This is why we need to end vacancy decontrol. We need to limit the rent increases landlords can impose after they make capital improvements. We should cut in half the percentage increase a landlord can charge after vacancy. We should allow the City of New York to strengthen its rent protections beyond what the state allows.
The Assembly Majority has passed legislation that accomplishes all of these things and more.
Given the suffering working families have endured since 2008, I ask you, is it right, is it fair, to make tenants worry about the security of their homes? No!
Fortunately, we have a governor who supports the extension and enhancement of the rent laws. Now we need him to join us and to use his clout to make it happen.
Right now, we need you to deliver this message loudly and clearly:
EXTEND AND ENHANCE THE RENT LAWS! GET THE JOB DONE, NOW!
It is also crucial that we provide adequate funding to help those who most need a helping hand from government.
That is why the Assembly Majority fought for and achieved a budget agreement that:
Restores $25 million in funding for New York City senior centers and $15.5 million for Summer Youth jobs;
And restores $53 million for New York City schools, because our children's education should never be sacrificed.
Although the "the millionaire's tax" was not in the enacted budget, I and my colleagues still hope to convince our partners that it is the right thing to do. Again, we need your help here.
Washington has already given millionaires a significant tax break Now, I ask you, does it make sense, is it fair to give the wealthiest New Yorkers a $700 million tax break this year? A $2.6 billion tax break next year?
Is it fair to put millionaires in the same tax bracket as someone who earns $20,000 a year? No! So, please make your government hear your frustration today, tomorrow and every day. Do not let the opportunity pass you by. Make the most of your day here in Albany.
Keep up the good work and let's make sure that good, hardworking families will continue to thrive in New York.
Thank you.