2011 NYS Police Officers Memorial Remembrance Ceremony

Empire State Plaza - Police Officers Memorial - Albany, NY
Tuesday, May 11, 2010 [1 P.M.]
Thank you, Deputy Secretary Glazer.
Members of Law Enforcement. Lieutenant Governor Duffy. Senator Skelos. Mayor Jennings. County Executive Breslin. Members of the Clergy. Elected Leaders. Ladies and Gentlemen.
To the families, friends and colleagues of the heroes we honor this afternoon, I humbly extend the respect and the condolences of each and every member of the New York State Assembly, as well as our profound gratitude for sharing with us the lives of these courageous men and women.
We join the good citizens of New York in thanking the Almighty for having blessed our state with guardians of such valor and devotion to duty. Surely, all the trumpets sounded on the other side the moment these heroes arrived.
I did not have the privilege of knowing the 15 officers who comprise our roll of honor today, yet every second of every day and of every night I, like most New Yorkers, went about my daily life counting - almost without thought - on these officers;
Their training and their vigilance;
Their courage and their ability to keep us safe, our families safe, our communities safe.
This is what we expect from law enforcement and if we are honest with ourselves, more often than not, we take our police officers for granted … until we arrive at this memorial.
Here we face a simple but oft-forgotten truth, that the most valuable treasure we have in our state and in our nation, are the young men and women who devote themselves to service. When they fall in the line of duty, the loss is devastating beyond measure, because they are a treasure that cannot be regained.
And it is here at this wall, where we come to grips with the impossibility of the law enforcement challenge:
Of meeting our every expectation;
Of maintaining order and peace - around the clock, season after season - in a culture that too often demands its freedoms while disdaining its responsibilities;
And then, we ask our officers to anticipate and to respond swiftly and perfectly to the unforeseen and to the unimaginable.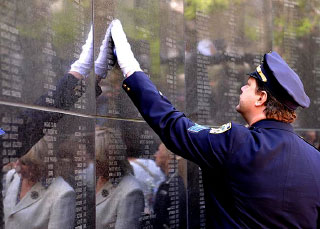 Law enforcement officials from across the state came to the state's Police Memorial in Albany to witness the addition of the names of police officers who lost their lives while protecting their communities.
To the loved ones and the colleagues of the ten officers who succumbed to World Trade Center-related illnesses, I hold a special fondness in my heart for you.
I live near the World Trade Center. I saw the jet that struck the South Tower. I inhaled the toxic smoke that permeated every square inch of Lower Manhattan. I know how nobly and heroically the NYPD carried out their duties on that tragic September day and in the terrible days that followed.
It is small condolence, I know, but the commitment and sacrifice of your loved ones will prevent other first responders from suffering a similar fate. And I assure you, it will not be forgotten that your loved ones - New York's Finest - in their time of need, deserved better from Washington.
When this ceremony is completed and we return to our offices and our homes, this wall will continue its solemn and solitary vigil.
There are times when I wish we could bring this monument to every community so that our children might understand that the peace and the security, the freedom and the justice they enjoy at home, sometimes requires so much more than laws.
For me, this wall says more about the nature of the people who accept the duty of enforcing the law than it does about the profession. Law enforcement is a calling to men and women of valor. It is a calling to citizens who are driven to make a difference and to make things right; who are compelled to confront injustice and disaster, because this is what heroes do.
Their spirits, their love are with us today, so let us have the courage to pledge ourselves to making the State of New York a place worthy of the sacrifices they made for us.
I close with the sentiments of the poet William Butler Yeats. "Think where man's glory most begins and ends, and say, our glory was that we had such [heroes]."
May G-d bless all of you and may G-d guide and protect our valiant law-enforcement officers wherever they are serving.
Thank you.