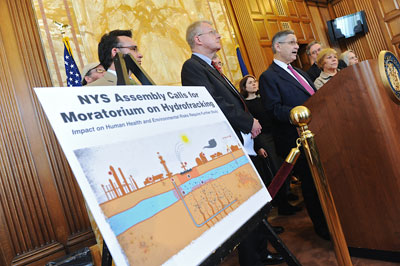 Assembly Speaker Sheldon Silver (at podium), joined by Environmental Conservation Committee Chair Robert Sweeney (next to Silver), other members of the Assembly Majority, and environmental advocates, holds a news conference on a bill the Assembly passed that calls for a moratorium on hydrofracking in New York State. Silver said the legislation would mandate a one year suspension on drilling oil and natural gas wells that involve hyrofracking so legislators have more time to examine potential risks to human health and the environment.
Assembly Speaker Sheldon Silver (D-Manhattan) and Environmental Conservation Committee Chair Robert Sweeney (D-Lindenhurst) today announced the Assembly has passed legislation establishing a one year moratorium on hydraulic fracturing in New York. Hydraulic fracturing, commonly referred to as hydrofracking, injects chemicals and highly pressurized water into underground rock formations to extract natural gas and could potentially threaten vital drinking water supplies.
Silver and Sweeney were joined by other members of the Assembly Majority and environmental advocates at a Capitol news conference to discuss the bill (A.7400, Sweeney). The measure would suspend hydrofracking operations in the state until June 1, 2012, in order to allow more time for health and environmental safety concerns surrounding this practice to be thoroughly examined.
"We have heard from thousands of residents across the state about many issues associated with hydrofracking, and prudent leadership demands that we take our time to address all these concerns. The natural gas within the Marcellus Shale isn't going to go anywhere," said Silver. "With this legislation, the Legislature will have more time to study the concerns associated with hydrofracking and determine if the benefits of this natural resource can be safely realized without compromising our drinking water and devastating our environment. Hopefully, the Senate will support the moratorium and approve this bill."
"These energy resources found in our state have the potential to provide great economic benefit to New Yorkers, but there is also the potential for causing significant harm if we don't first examine hydrofracking's impact on our environment and human health," said Sweeney. "I call on the Senate to pass this bill so there will be time for a thorough review of all the available information well before this process gets the green light."
"The State of New York would be correct to carefully consider the facts, review the best available science, and learn from other states' mistakes before it allows hydraulic fracturing," said Rob Moore of Environmental Advocates of New York. "The New York State Assembly's actions today can help ensure that New York State and the Department of Environmental Conservation are not pressured into rushing into a decision. We thank Speaker Silver and Assemblyman Bob Sweeney for their leadership on this important issue. We look forward to the state Senate passing this in their house in the next two weeks."
"NRDC supports the Assembly's legislation to design a year's moratorium allowing DEC to do a full and thorough review," said Richard Schrader, New York legislative director, National Resource Defense Council. "Anything less would be opening the door to the environmental difficulties experienced in Pennsylvania."
According to Silver and Sweeney, testimony taken at a recent Assembly public hearing on hydrofracking has highlighted concerns about possible drinking water contamination, habitat destruction and chemical spills. Under the bill, the Department of Environmental Conservation (DEC) would suspend issuing new permits for the drilling of natural gas and oil wells throughout the state until next June.
Silver noted that during the proposed moratorium period several significant reports on the safety and environmental impact of hydrofracking are expected to be released, including studies by DEC and the U.S. Environmental Protection Agency.