The Downtown-Lower Manhattan Association Breakfast
"Lower Manhattan Ten Years Later"

Thursday, September 8, 2011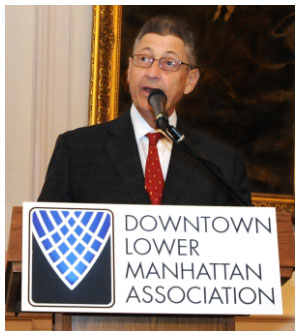 Thank you, Bob, for your kind words, but more than anything else, thank you for your leadership of the Alliance and for your commitment and invaluable contributions to the transformation of Lower Manhattan.
It's good to see my friend Liz Berger again. What a terrific job she continues to do in leading the Alliance. Clearly, hers is a vision for the future we can all buy into.
Liz, although you stole my thunder with that outstanding report on the state of Lower Manhattan, I truly value your leadership as well as our partnership.
Bill Rudin, Chairman of the Association for a Better New York and my friend, at one of my first Lower Manhattan speeches - back in 2006 - I acknowledged how cruel it was that your father, the great Lew Rudin, would have to witness the destruction of the World Trade Center.
This morning, I am inclined to believe he is smiling at what is being achieved in this historic community and I know in my heart that he is extremely proud of the leadership role you have played in this rebuilding effort, as all of us are.
Thank you, Bill.
Friends. Colleagues. Ladies and Gentlemen.
This morning I had the privilege of greeting children on their first day of classes at our new Spruce Street School.
I wish you could have seen the nervous excitement in their faces, their little backpacks, the lunch boxes, the young parents waving and watching until their little ones were safely inside.
It brought back fond memories of days gone by and I could not help but feel a deep sense of satisfaction - not merely because I had a hand in bringing about this school - but because there is no truer symbol of Lower Manhattan's transformation, no greater demonstration of the people's faith in this community and its future, than when we open a new school and get to see first hand the trust of parents as they send their little ones into our community to learn.
I have been to my share of "first-day-of-school" events. Today was by far, the most inspiring of all.
That part of the funding for the construction of the Spruce Street School was provided by the Lower Manhattan Development Corporation only adds to the significance of the moment.
The members of my school overcrowding task force are literally walking Lower Manhattan block by block, scouting locations for potential schools that will help us keep pace with the boom in school-aged children.
That said, I am delighted to report that plans are in place to convert the Peck Slip Post Office into another new elementary school, which will begin its classes in Tweed Court House beginning next year.
School openings may not make the front pages or be covered by the foreign press, but they are our most eloquent way to claim victory for a Lower Manhattan community many predicted would never come back.
For the Spruce Street School to be housed in a Frank Gehry building - the largest residential building in the city - only enhances the victory.
As people's memories of 9/11 are replaced by the story of our resurgence in the face of a faltering economy, they will join the throng of families, businesses and tourists who are relocating to - or just reveling in - our vibrant community each and every day.
Forgive me if I am sounding like James Earl Jones from the Field of Dreams.
We are building. They are coming. It's hard not to be inspired by - and be proud of - the transformation taking shape in my hometown.
Upon arriving in Lower Manhattan, those who watched in despair ten years ago, will encounter citizens of every nationality and culture living and working, playing and doing business together; all making their own unique contributions to the vibrant fabric of this 21st Century community.
On streets where people once ran for their lives, they will find young parents - among the 55,000 residents of Lower Manhattan (double the number that were here before 9/11) - pushing their strollers.
On busy avenues of commerce that were expected to wither away, they will find more than 300,000 well-educated and highly trained weekday workers, many of whom are walking to work and availing themselves of the free WiFi locations provided by the Alliance.
In a community to which no one was expected to return, nine million tourists are coming and going and spending their dollars in our local economy.
All are living, working and enjoying themselves in a tech-savvy environment overflowing with creativity, innovation and energy, where the quality of family life is as central to our vision of the future as is our legendary business and financial prowess.
In the soaring shadows of One World Trade and Four World Trade, residents and visitors alike will find dozens of new hotels along with a bevy of restaurants and retail shops suited to every taste and every budget.
At the iconic Fulton Street Transit Center, soon to be a crown jewel of our community, residents, visitors and workers will find seamless connections to subways that will take them anywhere in the city along with significant retail and a connection to the PATH train.
In great neighborhoods throughout Lower Manhattan, visitors will find world-class museums and art galleries, parks, gardens and a waterfront that is both beautiful and accessible.
Let me once again commend the Alliance as well as Community Board One for their inspired 2002 waterfront study which proved to be a valuable reference for city officials as they designed the East River Esplanade.
Given the audio and video record of 9/11, it is not hard to understand the early predictions of the demise of Lower Manhattan.
It was not an acceptable fate to the people who lived and worked here. We were determined to bring this community back and to make Lower Manhattan better than ever before.
The active and passionate involvement of our community - residents and businesses alike - have made the difference when it comes to ensuring that the rebuilding plan would address Lower Manhattan's real needs as identified by those who know them best.
That said, let me take this opportunity to recognize Julie Menin, Catherine McVay-Hughes, the members of our community boards, and all of the citizen activists who would not sit idly by and have this community defined for them.
My thanks as well to Carl Weisbrod, to Bob Townley, and to my longtime partner Madelyn Wils, the former chair of Community Board One, who worked so tirelessly and effectively in the days and weeks after the 9/11 attacks.
The events of 9/11, the tremendous loss of life, the massive destruction of property not only devastated families, it rightfully led many of the companies that were the backbone of the business and financial capital of the world to question whether Lower Manhattan was the right place to do business.
Given this scenario, it wasn't long before Downtown dropped from the third to the fourth largest central business district in the nation.
Once again, leaders from the public and private sectors, led by Larry Silverstein, steeled their resolve to bring Downtown back.
With support from government in the form of Liberty Bonds and the tax credits and incentives provided under the Marshall Plan for Lower Manhattan - and with a working partnership between Silverstein Properties and the Port Authority - the comeback began in earnest.Our thanks to Larry, to Janno Lieber, and to Chris Ward for their outstanding leadership in carrying out what is the largest urban construction project in history.
My thanks as well to Bob Harvey and to the Lower Manhattan Construction Command Center for the amazing job they are doing in coordinating all of the construction.
Ultimately, the predictions that World Trade Center 7 would never be sufficiently leased proved ridiculous, as the building is now less than eight percent vacant.
Goldman Sachs sent a powerful message in 2005, when it broke ground on its new world headquarters.
With each announcement, the drum beat grows louder:
Lower Manhattan is the place to be.
It is still the place to be for finance, as Oppenheimer Funds recently demonstrated.
Lower Manhattan is fast becoming the media capital of the world, led by the Conde Nast empire, the Daily News, and American Lawyer Media.
And it is the place to be for world-changing non-profit corporations, including the William J. Clinton Foundation and the New York Academy of Sciences.
The diversification of our economy grows more impressive by the day - media, professional services, tech companies, creative services, nonprofits; the possibilities appear limitless.
At last year's breakfast, I addressed the supposed "glut" of office space that will exist when the World Trade Center is fully rebuilt.
I told you then, that we are not building for today. We are building for the economy that we want years down the road.
We are building for the green, high-tech sector that is emerging.
Building the World Trade Center project as planned will help ensure that New York has the modern, green, first-class office space necessary to compete in this new millennium.
Larry Silverstein is correct in his assertion that companies with leases expiring in the next few years, will likely come to the World Trade Center to avail themselves of our first-class facilities.
We know from a variety of reports that Downtown Class "A" leasing is more than five times the level it was at one year ago, thanks in no small measure to the arrival of the Conde Nast.
The vacancy rate is down and overall rents are up; Class "A" by more than eleven percent.
Let me quote from Cushman and Wakefield's Manhattan Office Report for the second quarter of 2011:
"… all indications are that interest in the Downtown market has increased sharply since the Conde Nast transaction closed, suggesting that the market will be able to make up for the loss of any tenant moving elsewhere."
My favorite observation however, comes from the Alliance's own report on the State of Lower Manhattan, and I quote: "Upon completion of the World Trade Center redevelopment program and the 8.8 million square feet of world-class office space, Lower Manhattan will regain its ranking as the nation's third largest central business district."
That is a goal I have been advancing at each and every breakfast and when it happens, it will be a moment worthy of celebration.
Central to the transformation of Lower Manhattan will always be the National September 11th Memorial and Museum.
It is a powerful place and it will undoubtedly be a magnet for visitors from around the world for generations to come.
During a recent tour that I hosted for downtown community board members, one young man spoke of the frustration he felt with the years and years of meetings and discussions on how to integrate the Memorial with the surrounding community.
As he took in the solemnity of the Memorial, frustration turned to gratitude that a precious jewel had finally been returned and fully integrated with the surrounding community, and you could sense, at least in this one visitor, the restoration of faith in Lower Manhattan and in the vision of our future.
On behalf the residents of Lower Manhattan, I commend the 9/11 families, the National September 11th Memorial and Museum Foundation, its Chairman, Mayor Michael Bloomberg, and its President, Joe Daniels, for taking on this noble endeavor and giving us something truly extraordinary and worthy of Lower Manhattan and the thousands of lives we lost.
Partnership is the key to our success. You've heard me say it at least a hundred times over the years. So, while the world may be surprised by the transformation, we know it is everything we wanted it to be and more.
As I have maintained since my first breakfast speech, the credit for our success belongs to everyone.
I've acknowledged a number of our partners already, let me take a moment to recognize my fellow public-sector leaders: Mayor Bloomberg, our outstanding City Council Member Margaret Chin, our congressional delegation, and my colleagues in state government, including my State Senator, Daniel Squadron.
The challenge we face now is one of sustaining momentum.
The fiscal storms that continue to hamper job and economic growth will require state and local government leaders to do more with less.
We have been fortunate to have the LMDC - under the strong leadership of Chairman Avi Schick and President David Emil - providing the funding we need to spur the transformation.
Right now, there remain critical funds in the pipeline to undertake and to complete important projects. One such project is our world-class performing arts center.
We have worked tirelessly to create a vision for Lower Manhattan that balances our desire for economic activity with our need for a better quality of living.
Where the Memorial and Museum tell the story of the attack on America and the sacrifices made to preserve our liberty, there also needs to be a space that celebrates life and our freedom to express ourselves in our own ways.
The performing arts center gives us this balance and we must work together to deliver on the promise.
I believe we must follow through on the Alliance's proposal to convert Water Street into an attractive, dynamic, pedestrian friendly boulevard complete with great public spaces, additional retail, improved lighting, and special events that will make it a real destination for businesses and residents, 24-hours a day.
Likewise, we must follow through on our plans for the East River waterfront, on park improvements in Battery Park, on critical infrastructure work, including new water mains and sewers, and we must provide additional economic development incentives to assist small businesses growth and development, and to generate additional jobs.
It has always been an ambitious agenda driven by a remarkable partnership that must stay together and remain focused on the goal over the long run.
On Sunday, however, we will remember 9/11 for the tragedy it was and is to this day.
Recently, a young reporter asked me if there is one memory of September 11th and of the days and weeks that followed that is most prominent in my mind.
I wish there was only one memory.
Seeing Flight 175 hit the South Tower, feeling the ground shake when the towers collapsed, the smell of the smoke, all are indelibly imprinted on my memory.
I remember when the neighborhoods we celebrate now, were locked down by heavily armed police officers and National Guard Troops.
They were considered "frozen zones." My office was situated in the middle of one.
In these zones, parents could not go to work. Their children could not go to school. Senior citizens were not allowed to pick up prescriptions at their local pharmacy. Families could not shop for groceries at their neighborhood stores.
I procured a Winnebago - made it my rolling, temporary office - and we drove through Lower Manhattan, handing out breathing masks and water.
We helped residents obtain prescriptions, groceries and valuable documents. We connected residents with worried families, with their insurers, and with the appropriate government agencies.
It was perhaps the most rewarding challenge of my public life.
Forced to choose one memory, I will always recall with the utmost pride the courage and the generosity of my Lower Manhattan community on 9/11, and in the days that followed.
Men and women, old and young, people of every color and culture and creed, not knowing whether additional attacks were coming, out in the dark, out in the smoke, out in the chaos, comforting the families of the missing, donating blood, assisting and providing relief to our valiant police, firefighters and rescue workers.
In this one memory exists the answer to every question and every prediction regarding Lower Manhattan's future.
Whenever we work together to address the real need, the real suffering, the real problem - no matter how big the challenge - we will ultimately succeed.
This is the lesson I hope our children in the Spruce Street School will be learning as we approach the Tenth Anniversary:
To give of yourself, but to never give up. To dream big and to work together to make those dreams come true.
And this, my friends, is what we are doing right here in Lower Manhattan.
It is no small reason that the existence of the Alliance and the people of this community are making this happen.
Thank you.