Signing Of Legislation Expanding Health Insurance Coverage
For Autism Spectrum Disorders
Capitol, Red Room
Tuesday, November 1, 2011
{As Prepared For Delivery}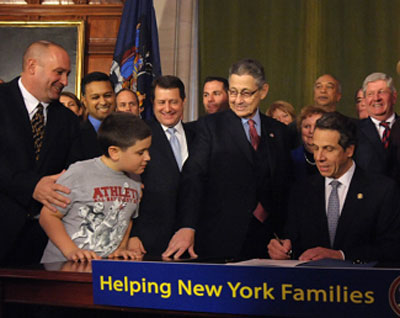 Assembly Speaker Sheldon Silver (First row, fourth from left) joins Gov. Andrew Cuomo for the signing of legislation to require health insurers to provide health care coverage to New Yorkers with the autism spectrum disorder. Ten-year old Alexander Smith (left side of desk), who has been diagnosed with autism, also participated in the bill signing ceremony in the Capitol's Red Room along with health care advocates and supporters, including (From left, first row) Michael Smith, Alexander's father; New York State Health Commissioner Dr. Nirav Shah; Assembly members Joseph Morelle, the bill's sponsor; Janet Duprey; Gary Pretlow (to the back of Duprey); and Senator Roy McDonald.
Thank you, Commissioner Shah.
Speaking for my colleagues in the Assembly on both sides of the aisle, let me say how delighted we are that this important and profoundly compassionate legislation is being signed into law this afternoon.
Over the years that I have served in the Assembly, it has been my privilege to participate in - and be witness to - a number of passionate and historic debates on the floor of the People's House.
Few have been as moving as the dialogues that took place during this year's legislative session on the issue of expanding health insurance coverage for autism spectrum disorders.
Listening to colleagues relate their experiences caring for loved ones with ASD not only gave all of us a new-found appreciation for the physical, emotional and financial challenges they are facing, but also a strong and mutual sense of frustration that families who must deal with ASD are paying enormous out-of-pocket costs for the screening, diagnosis and treatment; costs that ought to be covered by HMOs, individual and group health insurers.
Governor, we thank you for standing up for our vulnerable children and adults who are struggling with disorders within the autism spectrum, and for their families who are striving to give them the best care possible. Our thanks as well for your leadership in helping craft a three-way agreement on this critical issue.
Although many of my Assembly colleagues have been "out front" on this issue, sponsored this legislation and urged its adoption, I offer a special note of gratitude to the Chair of our Committee on Insurance, Assemblyman Joe Morelle, for his leadership and his tireless efforts to bring this legislation to enactment.
I also salute our colleagues in the Senate for their commitment to making this day possible. Our commendations as well to all of the autism advocacy groups, most notably "Autism Speaks," for their contributions to this victory.
While medical science has yet to find the one determining cause for these disorders, we know that autism is treatable, and studies tell us that early diagnosis and early treatment can make a significant difference in the lives of children with autism.
When government steps up to ensure a brighter future for such children, especially in difficult times such as these, this, to me, is government with its priorities in order. This, to me, is government at its finest.
I am proud to be a part of this victory and I am proud of my Assembly colleagues on both sides of the aisle, for contributing to - and supporting - this important legislation.
Thank you.