Campaign For Summer Jobs Annual Youth Action Day

Well Of The Legislative Office Building, Albany, NY
Monday, January 30, 2012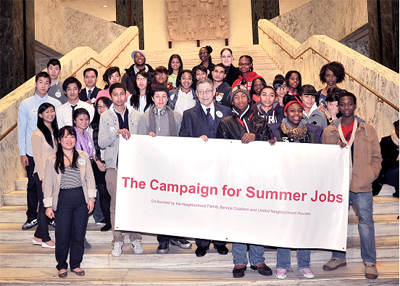 Assembly Speaker Sheldon Silver welcomed the participants of the Campaign for Summer Jobs Annual Youth Action Day in Albany. Silver thanked the attendees for coming to Albany to show their support for the Summer Youth Employment Program. Silver noted that because of the Assembly's persistence, an agreement was reached with Governor Andrew Cuomo and the Legislature to provide the program $25 million in public funds to address the extremely high unemployment rates among the state's inner-city youth.
Thank you, Gaby, thank you, David, for your very kind and generous introduction and thank you, my friends, for your warm greeting.
Welcome to Albany, the capital of our Empire State.
Are there any New York Giants fans here today?
I predict that Victor Cruz will be doing a lot of salsa dancing in the Patriot's end zone next Sunday.
My thanks to all of you for taking the time to visit our government.
Not every young person who will need a summer job is able to be here today. You are speaking for all of them. I and my Assembly colleagues have the utmost respect for each and every one of you and for the leadership you are showing by being here to advocate for the summer jobs program.
I, myself, made the trip to Albany this morning from my home on the Lower East Side of Manhattan. I am hoping that I have some neighbors here with me this morning.
Is there anyone from the Grand Street Settlement? How about University Settlement? What about the Chinese American Planning Council?
As I tell the Campaign for Summer Youth Jobs every year, I grew up on Henry Street. I spent my summers working at my father's hardware store on Ludlow Street. Today, I live on Grand Street. Everything important that I have ever learned, I learned in those four blocks on the Lower East Side.
So, I am delighted to have young people here in Albany with me who understand the challenges of growing up in Downtown Manhattan and who want the opportunity to work hard and to earn their own way.
May I say that I am a big fan and a longtime supporter of the United Neighborhood Houses and the Neighborhood Family Services Coalition. These organizations are critically important in the City, and I want to take a moment to recognize two community heroes who help guide these agencies.
Let's give a well-deserved round of applause to Gigi Li and to Kevin Douglas. What a terrific job they do.
When it comes to state government helping to create jobs for young people, this is an extraordinary year in Albany and I'll tell you why.
In prior years, Gigi would bring the Campaign to Albany not knowing if there would be money for summer jobs or if she would have to fight against a cut in summer jobs funding.
This year, thanks to an agreement reached last month between Governor Cuomo and the State Legislature and thanks to the persistence of the Assembly Majority, the State of New York is providing $25 million to fund the Summer Youth Employment Program in 2012.
In fact, the Governor and the Legislature have established the "New York Youth Works" program, which includes measures to address the extremely high unemployment rates among inner-city youth across our state.
Our state government understands that you - each and every one of you - are the future leaders of our state. This is why we are striving to provide you with the best start possible.
Keep this in mind today. No one in this complex, not the Governor, not the Legislature, not the people in business suits - no one - is more important than you are. So, please, speak your minds. Make your voices heard. Help us to understand how we can help you.
Also remember that you have good friends and strong supporters in the Assembly, me included.
Enjoy your day in Albany. Make the most of it. And on behalf of young people throughout the State of New York, thank you for being here.